Obama's New Campaign Weapon: His Pen
Blocked by Congress, he signs a flurry of orders to appeal to voters
By
As he gets ready for the fall campaign, Barack Obama is working to win over his most important constituents one pen stroke at a time. Stymied by Republican opposition in Congress, the president has turned to the powers of his office, issuing executive orders and other actions that enable him to bypass Capitol Hill and appeal to the concerns of Democratic voters.
For environmentalists, Obama stopped the Keystone XL pipeline and raised auto fuel efficiency standards. For young people, he declared new rules to ease repayment of student loans. For Hispanics, he tweaked federal immigration policy, curtailing deportations of illegal immigrants who arrived as children and those who served in the armed forces. The president stood with women's groups in demanding free insurance coverage for contraception. Consumer advocates won the recess appointment of a financial industry watchdog. For unions, the president filled three vacant seats on the National Labor Relations Board, restoring a quorum required for the panel to make decisions.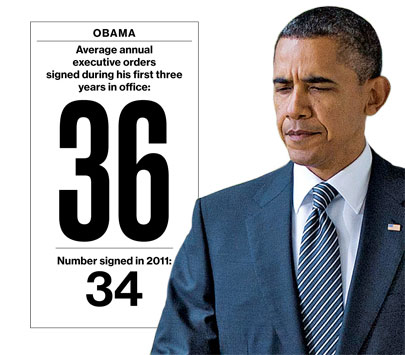 The executive orders may help reverse a perception of presidential haplessness that set in with some of Obama's allies last summer, after he spent months trying to reach a debt deal with Republican leaders, says Democratic pollster Andrew Baumann. It "creates a sense with his base voters that he's fighting."
As a candidate in 2008, Obama scorned the kind of political giveaways presidents often use to help them win reelection. Now he's doling out some of his own. Many of his directives are aimed at voters in states where he most needs votes. During an October trip to Nevada, an epicenter of the housing bust and an important state to win in November, he announced rules easing mortgage refinancing for homeowners who owe more than their property is worth. In January, he flew to Walt Disney World to unveil a federal initiative to promote tourism. For beleaguered manufacturing workers in Ohio, he created a new trade enforcement center to investigate unfair practices by China and other trading partners.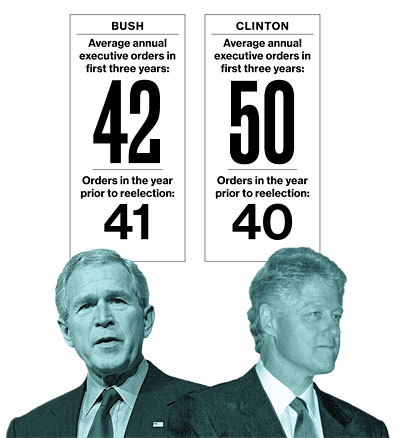 None of this has gone unnoticed by Republicans. "Goodies to his political allies," says Brendan Buck, a spokesman for House Speaker John Boehner (R-Ohio). No doubt, but the GOP didn't protest when George W. Bush, running for a second term in 2004, used his executive powers to dole out treats to Republican voters. A staunch free trader, Bush imposed tariffs on steel imports, which was popular in Ohio, West Virginia, and Pennsylvania. Five months before the election, he tightened travel restrictions to Cuba, a nod to the exile community in Florida.
A tally of executive orders shows Obama has actually resorted to them less often than other recent presidents. Last year he issued 34 executive orders. He averaged 36 per year during his first three years in office, according to the National Archives.


That's fewer than any president at the same point in his term, going all the way back to Franklin D. Roosevelt. And despite the angry response from Republicans when Obama circumvented Congress to install Richard Cordray as director of the Consumer Financial Protection Bureau while the Senate was on break, the president has also made less use of his power to make recess appointments. Obama has averaged fewer than 11 such appointments a year. Bush averaged more than 21 and Bill Clinton 17, according to the Congressional Research Service. The difference is that Obama has been more upfront in publicizing his efforts, holding press conferences and taunting Republicans with the slogan "We Can't Wait."
It's hard to say whether any of this will translate into votes. At the least, it may help keep allies from straying. Until recently, Hispanic immigration advocates had been very critical of Obama's immigration policy—they wanted him to stop the deportation of undocumented college students, veterans, and spouses of military personnel. They now praise the president for ordering a review of deportation cases and directing officials to focus on illegal immigrants who have committed crimes. "They coincide specifically with what we asked him to do," says Representative Luis Gutierrez (D-Ill.), who was arrested outside the White House last summer while protesting record deportations under Obama. Before the president acted, Gutierrez says, Hispanic activists were "very, very angry and disillusioned."
BOTTOM LINE -
The bottom line: A string of executive orders and other decisions is helping Obama reach out to voters in key Democratic strongholds.
Before it's here, it's on the Bloomberg Terminal.
LEARN MORE