Netflix Wants Everyone to Know What You're Watching
The company fights an old law that keeps video rentals secret
By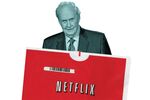 Back in 1987, a reporter for the alternative weekly Washington City Paper went to a D.C. video store and found out that Judge Robert Bork, whose Supreme Court nomination was before the Senate, had rented Alfred Hitchcock's The Man Who Knew Too Much and The Man with the Golden Gun, starring Roger Moore as James Bond. This tidbit didn't play a role in nixing Bork's nomination. It did outrage lawmakers on the Hill and prompted Congress in 1988 to pass the Video Privacy Protection Act, which prevents companies from releasing video rental records without a criminal warrant or unless the customer tells a company it's all right to do so. The law ensures that no American would have his taste in film aired to the public. Which is exactly why Netflix wants to change it.
The company struck an agreement with Facebook last September that allows users of the two services to link their accounts, so every time a Netflix subscriber streams something the title appears on the user's Facebook page. Netflix sees the feature as a way to pick up new customers and keep its 23 million streaming subscribers coming back for more. "In many ways social media is the new water cooler for consumers, and we think it may be a great source for our members to find movies and TV shows they will love," says David Hyman, Netflix's general counsel.
Netflix believes the Bork-era law prevents it from launching the sharing feature in the U.S. The company has already rolled it out in 46 other countries and has 500,000 subscribers abroad using it, Hyman says. Netflix wants the U.S. legislation updated so it can ask customers for blanket permission to share all the movies they watch.
Representative Bob Goodlatte (R-Va.) introduced an amendment to the law last July that would do just that. The bill, backed by Netflix, Google, and IAC, passed the House in December, but members of the Senate Judiciary Committee questioned it at a Jan. 31 hearing. Senator Al Franken (D-Minn.) suggested that it makes more sense to continue letting people decide to reveal what they purchase on a case-by-case basis: "It's a really good thing that people can easily tell their video company, 'Sure, go ahead and tell people I watched The Godfather, but no, don't tell them I watched Yoga for Health: Depression & Gastro-Intestinal Disorders.' "
John Simpson, privacy project director for Consumer Watchdog, an advocacy group based in Santa Monica, Calif., agrees the amendment is too broad. "I think it will be yet another inroad into people's privacy that had been protected by a pretty reasonable law," he says. William McGeveran, a University of Minnesota Law School professor who studies privacy issues and testified at the January hearing, says the company could activate the feature right now and still comply with the 1988 law by giving people the option to share a movie, or not, each time they stream one. The Netflix-backed amendment "is not necessary for high-quality social media integration," he says.
The bill remains stalled in the Senate, though Netflix's Hyman says he is "hopeful that the Senate will clear some regulatory underbrush to make this happen." And Bork: The retired judge, 85, says he's never seen Facebook but is a Netflix subscriber. "I suppose if they can find a way to preserve privacy under the statute," he says, "I wouldn't object."
BOTTOM LINE -
The bottom line: Netflix wants to offer its 23 million streaming subscribers one-time consent to share their movies via Facebook but fears it's illegal.
Before it's here, it's on the Bloomberg Terminal.
LEARN MORE