MONA, a Museum at the End of the World
An eccentric Australian gambler and modern art collector hopes to turn Hobart, Tasmania, into the next Bilbao
Matt Siegel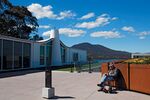 How far are you willing to travel for great art? Would you endure midtown traffic for Malevich at MoMA? Drive to Philly for the Cézannes at the Barnes? Cross the pond for Toulouse-Lautrec at the Tate or even the frozen banks of the Neva for a glimpse of Russian treasures at the Hermitage?
As far as David Walsh is concerned, those distances show a lack of commitment. True art lovers can prove their devotion by logging 24 hours over the Pacific Ocean to the land beneath the Land Down Under: Tasmania.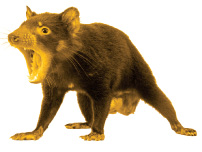 Walsh, Australia's most prominent art collector, is a mathematician who made his millions legally counting cards and crafting complex algorithms that allowed him to transform blackjack and horse racing, among other events, into high-yield investment platforms. His most audacious gamble, however, is the $200 million Museum of Old and New Art (MONA) he opened in January 2011, located on the outskirts of Hobart, the state capital. Mindful of the success of Frank Gehry's Guggenheim museum in Bilbao, and needing a place to store his own vast collection of modern art, Walsh, 50, hopes to transform one of the planet's most remote locales—a destination most famous as the corner of Australia where even the convicts were afraid to go—into a cultural destination on par with Bilbao or even Paris. And if he fails? Well, the eccentric collector doesn't really care.
Walsh believes art galleries in Australia too often value more traditional Western works of the type found in museums across Europe and America. "They are thus microcosms of international galleries, so very few people would come to Australia to see them," he says in an e-mail exchange. "I don't think the Louvre is the definition of culture. I think Wikipedia is. [People] can make up their own minds whether they come."
MONA has more than 2,200 works on display, including pieces by internationally renowned artists such as Damien Hirst and Jean-Michel Basquiat. These, and a world-class collection of ancient coins and even an Egyptian mummy, have managed to draw an estimated 425,000 visitors in the museum's first year, making it Tasmania's most popular tourist attraction.
Residents of Hobart, this most provincial of Australian state capitals, hope visitors continue to flock. Adrian Franklin, a professor of sociology at the University of Tasmania, is counting on what he calls "the Bilbao effect," referring to the way in which the rundown Spanish industrial city was revitalized by Gehry's Guggenheim, which opened there in 1997. "Hobart is not exactly the same kind of place as Bilbao, but all of these things notwithstanding, it's already getting half of what Bilbao is," he says.
Walsh—along with Zeljko Ranogajec, his business and gambling partner of more than 30 years—began accumulating his considerable fortune in the 1980s at the blackjack tables in apartheid-era South Africa. The exact system the pair have used is a secret as closely held as Walsh's net worth. In several recent interviews, Walsh has pled poverty, blaming his art addiction. His collection of modern works and antiquities, most of it at MONA, is estimated at more than $100 million by the Sydney Morning Herald.
In 1995, Walsh purchased the eight-acre property that now contains the museum—as well as several restaurants, an amphitheater, and luxury villas that can be rented for prices exceeding $1,000 per night—for a simple reason: "I liked it." He chose to build the museum on a grassy peninsula above the winding Derwent River where, in 1948, Italian immigrant Claudio Alcorso planted the first vineyards in southern Tasmania. MONA has grown to 102,257 square feet, roughly the same surface area as the Los Angeles Museum of Contemporary Art campus. Before even glimpsing the collection, visitors are struck by the architectural risks the museum takes.
One enters the structure, designed by local architect Nonda Katsalidis (who also built Walsh's beach house), through an ominous spiral staircase bored down into solid sandstone, a sinister version of the Fifth Avenue Apple Store's famous entrance. The descent is an appropriate lead-in to the museum's often unsettling works, displayed 56 feet below the surface. A maze of staircases leads between levels, and the walls themselves are often integrated into the works. Themes of sex, violence, and death are omnipresent in the space, which somehow never yields to the claustrophobia one might expect to feel while buried deep beneath Triassic sandstone, surrounded by disturbing images.
"I've traveled quite a bit, and I've never come across anything quite like what we've been able to create here," says Adrian Spinks, the museum's exhibition designer, standing in front of an installation by the Belgian artist Wim Delvoye consisting of five artificial stomachs that digest and eventually excrete waste.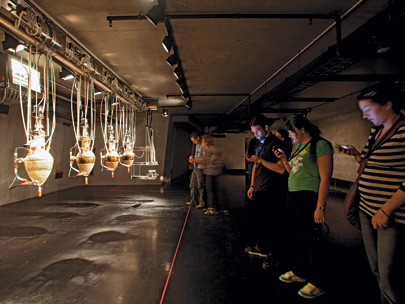 "I care about sex and death, hopefully in that order," Walsh says. "If I had Goyas or Picassos or Caravaggios or Van Goghs, it would still seem like I was interested in sex and death. All galleries are, or should be."
Deep inside the museum, Meg Mappin, 53, and her partner, Priscilla Pyett, 67, who arrived by boat from Melbourne, have just viewed a work called My Beautiful Chair. Next to an unremarkable sofa is a small table. In front of the table is a briefcase. Inside the briefcase is a replica of a "suicide machine" created by Australian Dr. Philip Nitschke, the first physician in the world to offer euthanasia for terminally ill patients. The work is meant to represent the home setting in which the machine might have been used. Mappin and Pyett, visibly moved by the piece, are both attracted to and repelled by Walsh's audacity. "MONA was the thing that brought us here," Pyett marvels. "And to think he owns it all."
The museum's most ingenious innovation may be its cataloging system. Every visitor is presented with a custom iPod Touch called an "O" that dangles around his or her neck from a lanyard. None of the works in the museum have any labels—Walsh doesn't want to impose his views or interrupt the viewing experience—so the "O" acts as both an inventory and a virtual guide.
Tap the screen and it tells you what works are near you. Select one and get everything from its history to critical analysis to Walsh's own ruminations on the piece. It took a team of programmers four years to design the software, whose proximity-sensing technology makes it unlike any other audio guide in the world.
But is all of that enough to persuade people to spend the two hours it takes to get here from Sydney, let alone the 24 from New York? Standing outside Delvoye's defecating installation, 74-year-old Frances Butler does not seem to think so.
"It's not the sort of art I really enjoy looking at, but that's just me," she says in a prim voice before deftly steering the topic to the wilderness for which Tasmanian tourism is much better known. "That is what real artwork is: nature."
Before it's here, it's on the Bloomberg Terminal.
LEARN MORE