India: Miracle, Interrupted
India's once-booming economy has hit the skids. Are the country's undeniable strengths enough to overcome its many problems?
Akash Kapur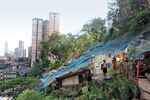 Indian scholars and authors like to write about something they call the "idea of India," a loosely defined concept of national identity. It's an attempt to impose a measure of coherence on the messiness of a country of 1.2 billion people. That messiness, however, is real. From the ground, it's hard to imagine how a single idea could ever capture India's reality.