How Brad Gruno Ended in the Chips
A failed telecom executive fights his way back to success with his healthy veggie snacks
Damon Tabor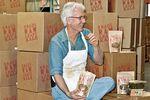 Brad Gruno used to eat steak. "I was living the fast life, the American corporate diet," says Gruno, 52, a former president of a multimillion-dollar, Atlanta-based fiber-optic cable company. But with skyrocketing cholesterol and the accumulated stress of losing his company following the 2001 dot-com crash, he knew his lifestyle needed a radical makeover. "Forty pounds overweight, depressed, I had just lost all this money—what am I going to do?"
In 2006, Gruno moved back to his hometown in Bucks County, Pa., and became a devout raw foodie. He began whipping up homemade chips in his kitchen: a thin layer of ground-up vegetables—including kale, flax, buckwheat, and spices—prepared in a food dehydrator. In three months, he'd shed the weight. "I was glowing," he says.
Gruno eventually traveled to an eco conference in New York and in-troduced his first prototype. Within an hour, there was a hungry line at his booth. He realized then the business was viable. Soon after, he converted a neighbor's garage into a factory and started selling chips at farmers' markets around Pennsylvania. He landed his first big client, a Whole Foods Market in Philadelphia, in 2010. Today, 14 flavors of Brad's Raw Chips are selling in 500 grocery stores across the country. Annual sales topped $2 million in 2011. Last year, Gruno also upgraded to a 14,000-square-foot factory, and a recent Today show review nearly swamped the company's servers. "When you eat raw, you feel alive," he says. "I wanted to grow my business, but I wanted to help people feel better."
 
BRAD'S BEST ADVICE
 
1. Start Small – Products will fail if acceptance in the market is too small. I first started sampling chips in local markets. People loved them. Then I approached larger retailers. When they loved it, I put on my entrepreneur hat.
 
2. Persistence without pestering – Be just south of annoying if you want to get your product recognized. You also have to make people move—if you have to have something in hand on Monday and your vendor says Wednesday, demand Monday!