France's Fraying Social Safety Net
Soup kitchens and pawnshops now have a middle-class clientele
by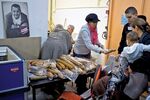 On a cold day in January, Inaya, an unemployed former Ikea manager, waited with about 100 people in a dingy hall at Crédit Municipal de Paris to pawn a Gucci bag and some jewelry. Sporting a tweed jacket and dark pants, she was tapping the broker for cash for the first time as her unemployment benefits dwindled after two years out of a job. "There's no work out there," she said, declining to give her last name. "It's hard to get out of this crisis."
Europe's sovereign debt mess and the economic slump it triggered have driven 30 percent more people to the 375-year-old Paris pawnbroker, and swelling numbers of people to charities such as Les Restaurants du Coeur, which runs soup kitchens and gives groceries to the poor. They lay bare the limits of France's welfare system, the world's most generous. The costs of this behemoth consume about 31 percent of gross domestic product. Crédit Municipal de Paris spokeswoman Olivia Stauffer says the average number of people turning up at the pawnbroker's doors has risen to 658 a day from 508 in 2010. "People have more and more difficulty recovering the objects they pawn," she says. "We are a crisis indicator."
"The structure of the French welfare state is such that you don't see acute poverty, but the model has reached its limit," says Philippe Chalmin, a professor at Université Paris Dauphine. "It's clear France will have to invent a new model." France's already heavy national debt limits the stimulus policies it can introduce to ride out the current slump. "There comes a point when you can't spend more than you earn," says Fabrice Seiman, co-chief executive officer of money manager Lutetia Capital in Paris. "It's as true for states as it is for corporates and for people."
France's welfare system supports the sick, the elderly, and those out of work, and provides family allowances, worker disability payments, and pensions. It will record a €19.9 billion deficit in 2012, according to Didier Migaud, head of the state auditor, Cour des Comptes. Efforts to take away any benefits will bring people to the streets, Chalmin says. "French people are very much accustomed to direct intervention by the state. First, you have to change French minds."
A walk through central Paris, with its packed restaurants and stores, belies the country's pain. France's gross savings rate of about 16 percent of household income—almost three times the rate in the U.K., according to the Paris-based Organisation for Economic Co-operation and Development—gives many families a cushion to ride out the rough patch.
Still, evidence that the social fabric is fraying is hard to miss. In the drizzle of a recent evening, about 100 people lined up in an alleyway near the metro station Chevaleret in the 13th arrondissement for a hot meal from the charity Aurore. The numbers have steadily risen in the past year, a worker for the charity says, declining to be named since only the central office is authorized to comment. At Restaurants du Coeur, women carrying children with runny noses and old men with canes waited patiently on a recent afternoon for supplies of vegetables, milk, fruit, and eggs. "The numbers have risen at least 10 percent at my center," says Jeanine Teboul, head of the operation in Paris's 18th arrondissement. "Many are retired people who can't make ends meet anymore. Many have just lost their jobs."
Even the middle class hasn't been spared. Marie, the owner of an 18-year-old custom-tailoring business in the chic 16th arrondissement, made her way last month to Crédit Municipal de Paris to pawn a ring. The 38-year-old, who declined to give her last name, said she had never pawned anything before. "My client list just dried up, and I fired my lone employee after several of my customers' checks bounced," said Marie. "It's clear the crisis is hurting everyone, not just the poor. I've never seen anything like it."
Before it's here, it's on the Bloomberg Terminal.
LEARN MORE