Foreign Buyers Heat Up Miami's Condo Market
Latin Americans lay out cash for new apartments
by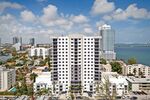 Sporting an olive blazer and a hard hat that's too big for his head, Martin Melo proudly looks up at his almost-finished condo tower. Brandishing a roll of blueprints, the 33-year-old Argentine developer declares, "This is Miami. We are 10 minutes from the airport, 10 minutes from South Beach. We found—some would say we 'stole'—good land." Melo says he acquired the 28,000-square-foot waterfront parcel in late 2010 for $1.4 million. A bit more than a year later his family-owned company, Grupo Melo, is about to complete the 18-story building, marketed as 23 Biscayne Bay. It's sold out. "Now," says a breathless Melo, "is the time for people who know how to win!"
In 2008 and 2009, with prices and the economy tanking, Miami's new high-rises ended up with so many condos in foreclosure—and unoccupied—that a fishing boat captain said the city looked like a luxury war zone. Today the canyons of downtown, South Beach, and route A1A are hot again as international buyers rush to acquire pied-à-terre in what has long been considered the gateway to Latin America. Across the city, home sales jumped by a record 46 percent last year, the Miami Association of Realtors reports. And median monthly rents are up by 30 percent from 2009, to $1.97 per square foot, according to Condo Vultures, a Miami real estate consulting firm.

Last summer, Melo's 23 Biscayne Bay made local headlines when it raised Miami's first condo construction crane in nearly three years. For their launch party the Melos skipped bubble-era excesses such as flame jugglers and stone-crab claws, opting instead for a more subdued evening of light appetizers and a gentle sales pitch. The event drew 50 people, almost all of them South Americans. Within weeks, says Melo, more than 70 percent of the yet-to-be-built tower's 96 units were under contract to individuals who put down half the $250,000-plus price in cash. In August the Melos broke ground on 23 Biscayne, with move-in scheduled for this July.
At least two dozen condo projects have been announced in the past 10 months, says Peter Zalewski, a principal at Condo Vultures. The 27-floor Bellini on Williams Island is taking orders for its 70 condos, each with elevators that open directly into the unit. The 65-floor, 1,000-unit Resorts World Miami, featuring a lagoon, casino, shopping mall, and six towers, is expected to be ready for occupancy in 2014. The Mansions at Acqualina, by local developer Jules Trump (no relation to the Donald), will have 79 villas with ocean views and a 16,000-square-foot, $50 million Palazzo di Oro penthouse. Trump says the project registered $200 million in sales in its first month.

Latin Americans, Europeans, and Asians, who Zalewski says represent as much as 80 percent of new buyers in the area, are willing to plunk down deposits of more than three-quarters of the price. At Trump Hollywood, another superluxury complex (by the Donald, not the Jules, and the Related Group), 58 percent of buyers are South Americans, 22 percent Canadians, and 7 percent Russians. Apogee Beach, a new Related Group condo 20 miles north of the city, presold 87 percent of its units to Argentines, Venezuelans, and Mexicans—and only 5 percent to Americans, the developer says. "When we saw that foreigners were again buying condos here, we rapidly adapted," says Jorge Pérez, Related's chief executive officer.
Zalewski predicts that Miami's downtown condo market will reach full occupancy early next year, compared with 8 percent vacancy now—even as 4,500 new condos become available across South Florida. "The speculator seeking riches has always been the common thread in South Florida's boom-bust cycles," he says. "The only change today is the extent of foreign investors with strong currencies flooding in."

The booming economies in Brazil, Colombia, and Peru are driving the sales. Argentines and Venezuelans, worried about political turmoil and government overreach, are also helping boost the market. The Melos spent much of their wealth developing Miami condos in 2002 just as Argentina's economy was collapsing. Now, Melo says, Venezuelans tell him they are increasingly worried that ailing ruler Hugo Chávez will make it harder for property owners to evict delinquent tenants. "Latin Americans don't trust their banks or governments," Melo says. "Of course, they can hold cash or gold and get robbed. If you buy a place in Miami and rent it out, it's like a safe."
Before it's here, it's on the Bloomberg Terminal.
LEARN MORE