East Coast Gas Squeeze Expected
Gasoline prices on the East Coast will likely jump this summer
By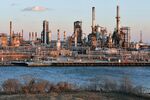 In 1902, Sun Oil, later Sunoco, opened a refinery in Marcus Hook, Pa., just south of Philadelphia. For its first few decades the facility refined Texas crude into gasoline. Eventually, it imported its crude from West Africa and other foreign sources. Marcus Hook, along with a second Sunoco plant and one nearby owned by ConocoPhillips, came to account for half the gasoline, jet fuel, and diesel produced on the East Coast.
These Philadelphia refineries could play a crucial role in determining the price many U.S. motorists pay for gasoline this summer—not because they will be refining oil into gas but because they probably won't. All three are for sale, unprofitable, and outdated. Marcus Hook closed in December. ConocoPhillips's refinery went idle in September. If Sunoco can't find a buyer for its South Philadelphia refinery by July, it'll close that one, too. "Sunoco's Northeast refining business has lost nearly $1 billion over the last three years," says company spokesman Thomas Golembeski. In February, Hovensa, a joint venture between Hess and Petróleos de Venzuela, closed its St. Croix refinery, which alone processed some 350,000 barrels of oil a day, most of it for the East Coast.
Unlike their counterparts in the Midwest and on the Gulf Coast, most East Coast operations are built to refine only light, sweet oil such as Brent crude. Since this oil is largely imported from such countries as Nigeria, its price is heavily affected by global events. The Arab Spring and threats of Iranian oil disruption have driven the price of Brent from $94 a barrel to over $120 in the last year, costing the East Coast refineries dearly. Demand for gasoline in the U.S., meanwhile, is close to a 15-year low, so refineries have been unable to pass on all their costs to customers. True, gasoline prices have been climbing—gas in New York State will probably hit $4 a gallon soon—but not enough to keep these refineries profitable. "The golden age of East Coast refineries is over," says Fadel Gheit, an analyst with Oppenheimer.
With the Philadelphia refineries probably gone for good, longer supply chains will add 5¢ to 10¢ to the price of a gallon of gas on the East Coast this summer, says John Parry, an analyst with energy research firm IHS Herold. According to a Feb. 27 report by the U.S. Energy Information Administration, drivers in the Northeast will be hit the hardest. Gas would have to be trucked and trained in to make up for lost supply, says the EIA report: "Prices will need to increase" to cover the extra cost.
While refineries on the East Coast are dying, those in the Midwest and on the Gulf Coast are booming. Those refineries rely on another class of oil, West Texas Intermediate, a crude produced mostly in the middle of North America. That means the price of WTI is largely immune to the influence of international politics. The various blends of oil that fall beneath the WTI pricing umbrella are often heavier and more sour (higher in sulfur) than Brent, requiring different processing equipment, which the Midwest and Gulf Coast refineries have.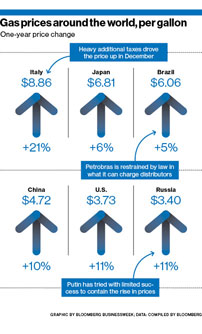 For the better part of the last 20 years, Brent and WTI have traded within $2 of each other, so there was little difference in the raw material costs between refineries across the country. That changed around 2010 when the price of WTI began falling due to the huge volume of new crude flowing from Texas, Canada, and North Dakota. By October 2011, WTI was trading around $75 a barrel, while Brent was at $100.
Refineries on the East Coast have limited access to WTI crude: Only one pipeline, the overtaxed 5,500-mile Colonial, connects the Northeast to Midwestern supplies. Plus, most Eastern refineries didn't spend the money to handle the cheaper sour crude coming from South America and the Canadian tar sands. "The East Coast never made that investment to process the sour stuff, and now they're paying the price," says Mike Leger, president of refinery consulting firm Turner Mason. HollyFrontier, meanwhile, which runs six refineries in Texas, Oklahoma, Kansas, Utah, and Wyoming, made $1 billion in profits in 2011.
Plans are now afoot to pipe an oversupply of crude in Oklahoma to the Gulf Coast, where it would be refined. That gas ultimately could make it to the Northeast. "This industry is going to quickly adjust in a year or two," says Ben Brockwell, a director at research firm Oil Price Information Service.