Clipping Coupons on Wall Street
The financial community comes to grips with smaller bonuses and diminished futures
By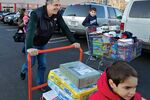 Wall Street headhunter Daniel Arbeeny drove to Fairway Market in the Red Hook section of Brooklyn on a recent Sunday to buy discounted salmon for $5.99 a pound. "They have a circular that they leave in front of the buildings in my neighborhood," says Arbeeny, 49, who lives in nearby Cobble Hill and also shops at Costco. He hasn't always been bargain-minded. While declining to give specifics, Arbeeny, managing principal at CMF Partners, says executive-search veterans like him who work with hedge funds and banks had been able to make about $500,000 in a good year.
Recently, his income has "gone down tremendously," he says, and he no longer goes on annual ski trips to Whistler, Tahoe, or Aspen. He's learned to appreciate supermarket circulars, keeping an eye out for good prices on his favorite cereal, Wheat Chex. "We sit there, and I look through all of them to find out where it's worth going," he says. "Wow, did I waste a lot of money."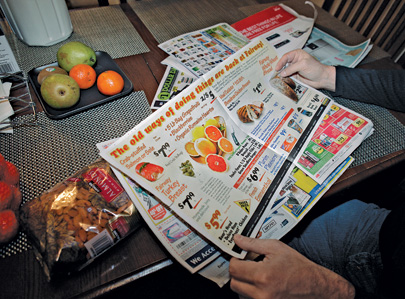 While that's not what "clipping coupons" has traditionally meant on Wall Street, it's becoming the new reality. Smaller bonus checks hitting employee bank accounts across the financial-services industry in recent weeks are making it hard to maintain the lifestyles that workers are accustomed to, according to interviews with bankers and their accountants, therapists, advisers, and headhunters. "People who don't have money don't understand the stress," says Alan Dlugash, a partner at accounting firm Marks Paneth & Shron in New York who specializes in financial planning for the wealthy. He's spending more time talking with Wall Street clients about their expenses, telling them "you don't have to cut that—but if you don't cut that, then you've got to cut this," he says. "They say, 'But I can't.' And I say, 'But you must.' "
Facing a slump in revenue from investment banking and trading, Wall Street firms have trimmed 2011 discretionary pay. Wall Street's cash bonus pool fell by 14 percent last year, to $19.7 billion, the lowest since 2008, according to projections by New York state Comptroller Thomas DiNapoli. At Goldman Sachs Group and Barclays Capital, the cuts were at least 25 percent. Cash bonuses were capped at $125,000 at Morgan Stanley. "It's a disaster," says Ilana Weinstein, chief executive officer of New York-based search firm IDW Group. "The entire construct of compensation has changed."
Wall Street's shrinking paychecks would still look good to most Americans. Median household income in 2010 was $49,445, according to the U.S. Census Bureau, lower than the previous year. The percentage of Americans living in poverty climbed to 15.1 percent, the highest level in almost two decades. Wall Street executives are not finding consolation in their relative good fortune, says M. Todd Henderson, a University of Chicago law professor who's teaching a seminar on executive compensation. "Yes, terminal diseases are worse than getting the flu," he says. "But you suffer when you get the flu."
Comfortable New Yorkers assessing their discomforts is at least as old as Edith Wharton's 1905 novel The House of Mirth, whose heroine, Lily Bart, said "the only way not to think about money is to have a great deal of it." Michael Sonnenfeldt, founder of a New York peer-learning group for investors called Tiger 21, says members, most with a net worth of at least $10 million, are thinking about money much more these days. They have been forced to "reexamine lots of assumptions about how grand their life would be." While they aren't suffering the way the unemployed are, he says, "for many people of wealth, they've had a crushing setback as well."
Sonnenfeldt describes a widespread feeling of "malaise" and a "paralysis that doesn't allow one to believe that generally things are going to get better" among his members, who pay $30,000 a year to be part of the group. That malaise is shared by Andrew Schiff, marketing director for Euro Pacific Capital, where his brother is CEO. With a lower bonus, he earned $350,000 last year. While that's enough to put him in the country's top 1 percent by income, and he "wouldn't want to whine," he says it doesn't cover his family's private-school tuition, Kent (Conn.) summer rental, and the upgrade they would like from their 1,200-square-foot Brooklyn apartment. "I feel stuck," Schiff says. "The New York that I wanted to have is still just beyond my reach."
His family rents the lower duplex of a brownstone in Cobble Hill, where his two children share a room. His 10-year-old daughter is a student at $32,000-a-year Poly Prep Country Day School in Brooklyn. His 7-year-old son will apply in a few years. "I can't imagine what I'm going to do," Schiff says. "I'm crammed into 1,200 square feet. I don't have a dishwasher." What he wants: "The stuff that I always thought, growing up, that successful parents had."
Hans Kullberg, 27, a trader at Wyckoff (N.J.) hedge fund Falcon Management who says he earns about $150,000 a year, also is adjusting his expectations. After graduating from the Wharton School of the University of Pennsylvania in 2006, he spent a $10,000 signing bonus from Citigroup on a six-week trip to South America. Last May he vacationed in India for 10 days. In August he went to a bachelor party in Ibiza, spending $3,000 on the three-day trip. In January he was in Las Vegas for another bachelor party. Lately, however, he's been cutting back. Last month a friend invited him on a trip to Mardi Gras in New Orleans. The friend was going to be a judge in a wet T-shirt contest, Kullberg says. He turned down the offer. It was "the most financially prudent thing to do," he says. "I'm not totally sure now about what I'm going to get paid this year."
Before it's here, it's on the Bloomberg Terminal.
LEARN MORE