Can a Pixar Whiz Conquer Live Action?
Disney is betting on John Carter, a movie about a Civil War vet leading Martian rebels
By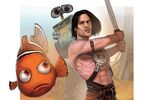 In the new Walt Disney film John Carter, a Civil War veteran transported to Mars fights giant saber-toothed apes and four-armed, sword-wielding aliens. Things are only a little less scary here on earth, where the pricey picture—researcher Box Office Mojo pegs its cost at about $250 million, not counting marketing—is already battling bad buzz, reports of cost overruns, and criticism of Disney's early marketing.