Bid & Ask: The Deals of the Week
Noteworthy expenditures of the week
By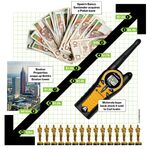 1. A group led by Apollo Global Management is acquiring El Paso Corp.'s oil and natural gas exploration business for $7.2 billion.
2. CVC Capital Partners, the buyout firm that owns Formula One, is paying $2.4 billion for Stockholm-based Ahlsell to expand into the wholesale supply of tools, machinery, and building products.
3. Blackstone Group will invest $2 billion in a $10 billion natural gas liquefication plant being planned by Cheniere Energy Partners, operator of the largest U.S. natural-gas-import terminal.
4. Thailand's only listed oil and gas explorer, PTT Exploration & Production, bid $1.7 billion for African explorer Cove Energy, trumping an offer from Royal Dutch Shell.
5. Banco Santander is buying KBC Groep's Kredyt Bank in a transaction that values the bank at $1.4 billion. Santander will combine Kredyt with its own Polish unit.
6. Abbott Laboratories will pay Galápagos as much as $1.4 billion for rights to an experimental drug for rheumatoid arthritis.
7. Houston-based Linn Energy will pay $1.2 billion for BP's natural gas holdings in the Hugoton Basin in Kansas. BP plans to sell assets worth $38 billion by the end of next year.
8. Motorola Solutions, which split in two a year ago following pressure from investors led by Carl Icahn, repurchased $1.2 billion of its stock from the billionaire investor and some of his affiliates.
9. Boston Properties is buying Bank of America's skyscraper at 100 Federal St. in Boston for $615 million, adding to a portfolio that includes the John Hancock Tower and Prudential Center.
10. A collection of 15 Oscar statuettes sold for more than $3 million at auction. The Best Original Screenplay Oscar won by Herman Mankiewicz for Citizen Kane fetched $588,000.