Banks Benefit From Fighting Nursing-Home Crime
Banks win community reinvestment points for installing lockboxes
by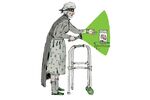 Banks have found an unusual way to comply with the Community Reinvestment Act (CRA), the federal law requiring them to bolster the economies of low-income neighborhoods: They're funding a program dedicated to fighting crime in nursing homes.
While critics say the program circumvents the spirit of the CRA, backing by U.S. financial regulators has helped the Senior Housing Crime Prevention Foundation sign up 250 banks in 47 states to lend or invest almost $350 million for its Senior Crimestoppers program. The money pays for personal lockboxes for nursing home residents, a 24-hour crime-reporting hot line, and entertainment including karaoke machines and video game systems.
Banks that don't comply with the CRA, which took effect in 1977, must face restrictions when they seek to expand. While some large banks such as SunTrust Bank and BB&T participate in Senior Crimestoppers, the program has special appeal for institutions with a few billion dollars in assets that may have difficulty competing with bigger banks for CRA-qualified investments, foundation officials say. Spokesmen for SunTrust and BB&T declined to comment.
Banks that donate to the foundation are doing little to promote economic development, says Peter Skillern, executive director of the Community Reinvestment Association of North Carolina, a nonprofit advocacy group. "That is not in any way related to lending or investing in neighborhoods," Skillern says.
Banks giving money to Senior Crimestoppers get CRA credit for more than they actually contribute. They park their donations in government bonds or other instruments of their choosing and keep any returns above a 1 percent fee they turn over to Senior Crimestoppers. The organization uses its cut to pay for the lockboxes and other program expenses. The banks get their principal back in several years, and regulators routinely give them credit for the full amount on deposit with the program, rather than just the 1 percent in interest they effectively donate.
While the foundation states that its Senior Crimestoppers program cuts nursing home crime by 92.5 percent, the data are based only on calls to the organization's hot line. Meanwhile, some nursing home administrators say they don't need or use the donated lockboxes. Peter Gwaltney, chairman, chief executive officer, and president of the foundation, says the group doesn't claim its crime data capture every incident: "We don't hold it up to be perfect."
Experts on nonprofits say the group's financial structure departs from standard charity practices. While the foundation is partially organized as a tax-exempt charity, it has close ties to USI Alliance, the for-profit company that runs the Senior Crimestoppers program. "Their governance is flawed, and I would steer donors away from this organization," says Daniel Borochoff, president of CharityWatch, which evaluates nonprofits. Gwaltney says the structure of Senior Crimestoppers "sounds very complicated, but it's all necessary for legal and liability reasons." The relationship between the for-profit and nonprofit companies "is not something we hide from in any way," he says.
The program is popular with regulators. In 2009, Sheila Bair, then chairman of the Federal Deposit Insurance Corp., spoke at a Senior Crimestoppers convention in Washington. "The FDIC strongly supports these efforts," she said, "and we show it by granting CRA credit for loans and investments that banks make in the foundation."
USI Alliance was started in 1995 by Charles King III, who worked at a division of Memphis-based National Commerce Bancorp that was looking to provide nontraditional services. "My brain started working, and I said, 'You know what would really be effective is if we could adapt local crimestoppers programs and couple that with lockboxes for residents in nursing homes,' " King says.
The operation had nothing to do with the Community Reinvestment Act until 2000, when King flew to Washington to convince his bank's overseer, the Office of the Comptroller of the Currency, that under expanded CRA guidelines Senior Crimestoppers should qualify as a service project because nursing home residents typically are poor. The OCC agreed. "We reviewed it, and it fit," says Barry Wides, the agency's deputy comptroller for community affairs.
King says the program helps all those involved. "It certainly is good for the residents of the nursing homes," he says. "It's good for the nursing homes themselves because it's free. They get a quality program at no cost. The bank is assured they're not going to have a loss on their investment, and they earn CRA credit." His conclusion: "It's a win-win situation for everyone."
Before it's here, it's on the Bloomberg Terminal.
LEARN MORE