A Must-Read for Venezuelan Bond Traders
A gossip columnist has the inside story on President Chávez's health
by and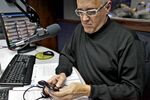 Investors left in the dark by Hugo Chávez's battle with cancer are turning to a political gossip columnist for insight. Nelson Bocaranda, who writes a twice-weekly column in the Caracas-based El Universal newspaper, last June revealed that Chávez had cancer five days before the Venezuelan president announced that doctors in Cuba had removed a tumor from his pelvic area. On Feb. 20, the columnist blogged on Twitter that Chávez had secretly traveled to Cuba and needed to undergo further surgery. "The decision whether to operate is a difficult one," tweeted Bocaranda. The unsourced speculation, at first denied by Chávez allies, was confirmed by the president a day later.
Chávez, who said in October he was cancer-free following two operations and four rounds of chemotherapy, has refused to say what kind of cancer he has or allow access to his medical records. With Chávez's health a state secret, Bocaranda has become essential reading for investors, says Boris Segura, a strategist at Nomura Securities International. "He's very well-connected, very well-informed, and you've got to read him," he says.
In recent weeks investors have bought Venezuelan bonds, speculating that Chávez's departure, assuming he's too weak to campaign for reelection in October, would be good for the economy. Opposition candidate Henrique Capriles Radonski has vowed to eliminate policies such as currency controls implemented during Chávez's 13-year rule that he blames for a soaring inflation rate and shortages of milk and flour. Though Venezuela's economy grew 4.2 percent in 2011 following a two-year recession, consumer prices have climbed 26 percent in January from a year earlier, the fastest pace among 83 economies tracked by Bloomberg.
Bocaranda's scoops have helped fuel the bond rally, says Francisco Ghersi, co-managing director of Caracas-based Knossos Asset Management. The yield on Venezuela's benchmark bonds due 2027 fell 32 basis points, to 11.55 percent, in less than four hours of trading on the morning of Feb. 21 after Bocaranda reported that Chávez was in Cuba. "This confirmed the fact that Bocaranda's sources are very accurate," says Ghersi. Russell Dallen, the Miami-based head bond trader at Caracas Capital Markets, wrote in an e-mail that Bocaranda "helped Venezuelan bonds gain 30 percent since he first revealed Chávez's illness nine months ago."
Bocaranda, 66, began his career as a radio news announcer and later worked as a correspondent in New York for broadcaster Cadena Venezolana de Televisión. He was employed by the Foreign Ministry as a press attaché at the United Nations. While abroad he cultivated sources in foreign governments, including the U.S. and Brazil. He also says he has reliable sources in Cuba, though he won't provide details: "You have to obtain information from abroad because you can't get it here."
Bocaranda's latest scoop came at 2:10 a.m. on Feb. 20, when he posted on Twitter from Miami that Chávez had been told he needed another surgery during a video conference with nine doctors a week earlier. Chávez resisted, though he eventually went to Cuba for tests with his mother, brother, and children before flying back to his home state of Barinas, Bocaranda wrote. Chávez's allies denied the report. Less than 24 hours later, Chávez confirmed on TV that he needed more surgery to remove a lesion detected during the previously unannounced trip.
While Bocaranda doesn't hide his sympathies for Venezuela's opposition, he says his political views don't interfere with his fact-based reporting. The government has retaliated by auditing his tax records and imposing fines, he says. Still, Bocaranda says he has no shortage of government sources, many of whom are dismayed by the president's handling of his illness. "Many government officials, including high government officials, felt humiliated that they didn't know what I knew," says Bocaranda. 
Before it's here, it's on the Bloomberg Terminal.
LEARN MORE