Shanghai Hikes Its Minimum Wage
Cities and provinces in China are hiking their minimum wage
by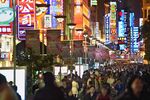 Workers in Shanghai are about to get another raise. The government of China's richest city announced on Feb. 28 that effective Apr. 1 the monthly minimum wage in Shanghai will go up 13 percent to 1,450 yuan ($230).
Shanghai workers aren't the only ones enjoying an increase in take-home pay. In China, minimum wages are set city by city and province by province. For instance, the same day the city's government unveiled its plan to lift salaries, the official Xinhua News Agency reported the northeastern province of Shandong would be raising its minimum wage, too. The provincial government is mandating an increase in the monthly wage by as much as 19 percent, Xinhua said, with full-time workers in the most developed parts of Shandong entitled to make a minimum of 1240 yuan ($197). And Shandong workers can expect more raises to come, with the government planning annual wage increases "of at least 13 percent in the years to 2015." This month workers getting the minimum wage in Shenzhen, adjacent to Hong Kong, got a 13.6 percent raise. Foxconn Technology Group, a big Shenzhen employer that makes iPhones, iPads, and other products for Apple, in February gave pay increases ranging from 16 percent to 25 percent.
Shanghai, Shandong, and Shenzhen are on China's coast, which has benefited the most from the Chinese economic boom, so you might expect their wages to be rising. Even provinces in China's poorer interior, though, are pushing through significant increases in minimum wages. Starting Apr. 1, Gansu, a landlocked province that has not been a major investment focus for export-oriented companies, is going to raise its minimum wage by 13.5 percent to 860 yuan. By the end of 2015, Xinhua reports, the province aims to have its baseline monthly wage at 1,500 yuan. Similarly, the southern province of Guangxi is pushing through a big wage increase, with Xinhua reporting on Feb. 15 an increase of about 22 percent, with workers in Guangxi's biggest cities now required to earn at least 1,000 yuan a month.
Why the widespread interest in increasing minimum wages? In part, local leaders are simply responding to directives from on high. As part of its latest five-year plan, the country's Communist Party leadership wants to make sure workers can have more take-home pay, which should help with the government's goal of shifting the Chinese economy's focus toward domestic demand and away from export industries.
Local governments are also competing with one another to show they're the most worker-friendly. With demand for workers so strong, governments are finding they need to raise wages in order to keep locals from migrating to other provinces where the pay is better. According to Xinhua, one reason for Shandong's new minimum-wage policy is "a bid to attract workers and buffer rising living costs."
The labor shortage isn't limited to factory workers. Workers for desk jobs are also in short supply. "There just aren't enough people," says Shaun Rein, managing director of Shanghai-based market research firm CMR China and author of the new book The End of Cheap China. Rein points to announced plans by Citigroup, Microsoft, Google, and others to boost their number of workers in China. "That's creating a huge fight for white-collar workers," he says. "Salaries are soaring."
Rising wages along the coast and in the interior put many companies—both foreign and local—in a bind. Hit by increased labor costs in traditional manufacturing regions like Greater Shanghai in the east and the Pearl River Delta in the south, many manufacturers are already shifting production inland to places such as Sichuan, where wages are supposed to be lower. But with even poor provinces like Gansu and Guangxi mandating big increases in minimum wages, the inland areas might not provide much relief.
Some manufacturers scared by rising labor costs have the option of moving to low-wage locations in Southeast Asia. (See my colleague Dexter Roberts's story last month about the shift of textile companies to Cambodia.)
However, for many companies, picking up and moving to another country isn't possible: Multinationals that want to compete in the fast-growing Chinese market have little choice but to keep raising pay much faster than in other parts of Asia. For instance, British recruiting firm Hays released on Feb. 8 a survey of more than 900 companies that found about 72 percent of employers in China raised salaries for white-collar workers by more than 6 percent last year; that compares with 21 percent of employers in Hong Kong and Singapore and just 7 percent of companies in Japan. And there's not going to be any letup this year: According to Hays, 81 percent of employers in China are planning to bump up salaries by more than 6 percent, vs. 32 percent of employers in Asia as a region.
Before it's here, it's on the Bloomberg Terminal.
LEARN MORE