Warren Buffett Chose a Favorite, Not a Successor
by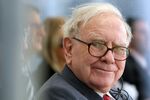 The news was intended to comfort anyone who cares to imagine Berkshire Hathaway without its octogenerian leader at the helm. Warren Buffett has finally—finally!—found someone to replace him as chief executive officer. But that announcement, disclosed in Buffett's annual shareholder letter on Feb. 25, has turned out to be something of a non-event. If anything, it's arguably worse: a notice that could foster more confusion and ill will than if he'd said nothing at all.
While Buffett may have complete confidence in his designated replacement, along with "two superb back-up candidates" cited in his letter, this is not a successor. It's an admission that he has selected a favorite. The Berkshire chief's comments on CNBC on Feb. 27 confirm that Mr. Right (a scan of the top ranks suggests it is unlikely to be a Ms.) is little more than Mr. Right Now. Start with the fact that Buffett, 81, has made it clear that he has no intention of stepping down. None. And yet he has told the world that one person has emerged victorious in the horse race to replace him, even though it could be years before that person claims the prize. Nobody outside the board room knows who has been chosen. As Buffett admitted during his annual "Ask Warren" marathon on CNBC, the leader-in-waiting doesn't even know he's already been picked for the top job.
Far from being heartened by such "clarity," shareholders might wonder what good can come of the purgatory this half-hearted announcement creates. It leaves Berkshire in the odd position of having chosen a leader who may or may not be ideally suited to running the company when Buffett does eventually move on. Will the same person be the best candidate in, say, 2020? What if the portfolio changes? The company is also placing its bets on someone who may or may not stick around. Such things happen: American International Group just saw its designated successor to CEO Robert Benmosche, Chairman Steve Miller, leave the bailed-out insurer to take the CEO job at Hawker Beechcraft. While AIG's board may have felt compelled to name Miller back in 2010 because Benmosche was battling cancer, it underscores the reality that heirs apparent don't always linger in that role for years.
The bigger issue is what Buffett's announcement reveals about Berkshire Hathaway. To Stephen Miles, a vice chairman at Heidrick & Struggles who specializes in CEO succession, it's a stark reminder of the perils of letting CEOs drive the process. "You see this more often with successful founder CEOs. Because they're so good, they want to take the lead in choosing their replacement," says Miles. While Buffett has stressed that his directors are "enthusiastic" about his successor, Miles points out that "most boards try to avoid what he did." For good reason: Having the CEO proclaim that some unnamed insider is now guaranteed to get a job that he has no plans to abandon isn't going to set a gold standard for good governance.
Then again, what just happened in Berkshire's boardroom doesn't really sound like a succession. It's doubtful that the board has in fact made a firm decision. That would require a formal vote and a timeline for the leadership transition, not to mention a name that can be disclosed. Should such a decision have been reached, it seems likely Berkshire directors would have considered it a material event that would have to be disclosed to shareholders through a Form 8-K. Absent that, it seems safe to assume that the board views this for what it is—a name in the envelope who can take over if Buffett is hit by a bus.
That's the least they should do to maximize the likelihood of a seamless transition. Berkshire's directors know all too well that the aura around the company has faded somewhat in recent years. David Sokol was viewed as a likely successor until March 30, 2011, when he was forced to resign after buying up shares in a company that he then persuaded Buffett to buy. While Buffett initially praised his protege, writing that "neither Dave nor I feel his Lubrizol purchases were in any way unlawful," Berkshire's audit committee issued a damning report weeks later that accused Sokol of violating company standards. While the committee spared Buffett from any blame, the scandal was a major embarrassment that proved the Oracle of Omaha wasn't immune to being duped.
Still, despite such missteps—and profits that fell short of expectations in the fourth quarter—few shareholders seem to be hankering for the famous investor to step aside. All the more reason to take his latest news with a grain of salt. The only people likely to be affected by it in the short term are the insiders who are already widely regarded as contenders for the top job: Ajit Jain, Matthew Rose, Gregory Abel, Tony Nicely, and Tad Montross. Their boss has now made it official that he's picked the chosen one, though he's not going to tell them who it is. Imagine what that does to the harmony and sense of teamwork at the top. If it doesn't make the less-confident ones head for the exits, it certainly raises the odds for occasional bouts of paranoia.
Luckily, Buffett himself put the announcement into context. As he noted on CNBC: "Who's Jeff Immelt's successor? Who's Jamie Dimon's successor? All of those people have decided. They've got somebody in mind. I will guarantee you that. Their directors have discussed it." Yes, they have. That's called succession planning and it's something that well-run boards are supposed to review on a regular basis. Ideally, it's a process that will help Berkshire's board reach the right conclusion on who's best suited to lead the company when the time comes.
In the meantime, as with Buffett's plea for President Barack Obama to please raise his taxes, what he's articulated is less a plan than a wish.
Before it's here, it's on the Bloomberg Terminal.
LEARN MORE