pursuits
How to Get into TED? It's Like Applying to College—Again and Again
Kate Brodock spent nearly a decade getting into the famed gathering for techies. For presenters, it's even harder
By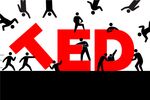 How hard is it to get into TED? Even at a cost of $7,500, the Technology, Entertainment, Design idea-fest, which begins Tuesday in Long Beach, Calif., is always oversubscribed. Organizers carefully vet applications to choose the 1,350 who get in.
Kate Brodock applied to TED conferences for eight years straight before being accepted in 2010 to TEDWomen, one of the occasional thematic offshoots of the main TED gathering. Brodock, who is chief marketing officer for the nonprofit Girls In Tech and social-media director at Syracuse University, says she didn't pick her pursuits to get into TED, but recognizes that her profile has become closer to that of the typical attendee. "If I am doing the types of things that these really inspiring speakers are up on stage talking about, then I'm on the right track," she says.
The application has six, short college-essay-style questions: How would a friend describe your accomplishments? What are you passionate about? Share a story from your life that shows what makes you tick. Applicants are also asked to provide websites that will help conference organizers get a better sense of who they are, such as their blogs, academic research, or company websites.
Who you know counts too. TED requests at least two references, and asks if those vouching for applicants have attended the conference in the past. While it notes that "it isn't necessary that they have," Brodock says that a referral from a TED attendee, speaker, or high-profile name "significantly helps your cause." Above all, she says, "you can't fake it on a TED application." Organizers look for people who are leaders in their fields and will sniff out padded, pandering resumes.
If getting a seat at TED is hard, getting on stage is herculean. Organizers review "thousands and thousands" of speaker candidates every year, from referrals or people who submit their own names online, says Kelly Stoetzel, TED's content director. Those are narrowed down to a short list of 200 or 300 "who are most interesting to us and fit with the theme." The final tally is 60 to 70 speakers. Occasionally Stoetzel and curator Chris Anderson will recruit speakers that fit into the themes they want to explore in a particular conference session. "We'll be looking at the program and say: 'You know what, a boat-builder would be perfect for this program right now.' And we go out and we look for a boat-builder," she says.
TED is sensitive enough to charges of elitism that it devotes an 800-word Web page to refute them. To broaden its range of speakers, the conference last year held an audition for the first time. Hundreds of people submitted one-minute video applications that organizers narrowed down to 17 finalists who were invited to present in New York. Of those, four became conference speakers who will take the stage this week. Among the unknowns the auditions discovered was Cesar Kuriyama, who made a video from one-second snippets of his life recorded each day. Lior Zoref was also picked through the audition. He pitched a talk on crowdsourcing that he would write in collaboration with people in his social networks. (To make the audition, Zoref flew to New York from Tel Aviv shortly after his wife had given birth, Stoetzel says.)
Conference organizers were so pleased with the audition process that they're expanding it to 14 cities, with events planned this spring in Bangalore, Nairobi, São Paulo, and Tunis, in addition to New York, London, and Tokyo. Stoetzel says TED wants to recruit at least half of the speakers at next year's conference from the auditions. "We're really going and getting into communities and finding people who don't necessarily have the same access," she says. "It's not our intention to be elitist."
Before it's here, it's on the Bloomberg Terminal.
LEARN MORE