What Tyra Banks Learned at Harvard
The creator of America's Next Top Model talks about what she learned at a Harvard Business School executive program she finished on Feb. 17
By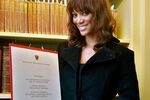 What has this done for your company?
After my first term, I came back and killed a whole bunch of businesses we were going into. We have to say no more often than we say yes, no matter how much money people put on that goddamned table. Harvard is all about innovation and being first to market. It's something I'm constantly bringing back to my team.
 
Were any of the courses ho-hum?
I wouldn't say any of them were ho-hum. Some of them were intimidating. For me, finance is intimidating. When the chalkboard starts to look like Einstein's chalkboard, I'm like, "whoa!"
 
Did any subject come more naturally?
In second term we talked about a tactic that's highly risky—you take such a leap forward in one direction that you burn the bridge to go backwards. I thought, "Oh my gosh, is that what I did when I retired from modeling and walked off the Victoria's Secret runway and told the entire world, 'I am retired!' before I even had my talk show renewed?" My marketing professor, Rohit Deshpande, is now doing a case study on my business, so I'm going to be part of the curriculum.
 
Does that make you a little worried?
Of course you've got to be worried because these guys are going to come and tear apart your company. As the protagonist of the case, I am welcome to be in the classroom when they present it. So it is like free advice—free, harsh, honest, unfiltered advice. I just have to put on my armor to go there.