The Super-PAC That Binds Gingrich and Lean Six Sigma
Newt Gingrich backs a rich donor's plan to fix the federal government
By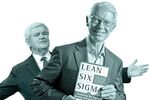 Last year, Mike George, a former management consultant, began approaching Republican Presidential candidates about signing his pledge to eliminate the national deficit using Lean Six Sigma, a strategy he developed in the 1990s. Enrollees in Lean Six Sigma courses learn ways to cut waste in their companies and make their workers more effective, earning "green belt" certification for one to two weeks of training and "black belts" for four. George amassed a fortune with the concept, winning blue chip clients including Xerox, Caterpillar, and United Technologies, and writing six related books that he says have sold more than 1 million copies. In 2007, Dublin-based consulting firm Accenture bought George's business, ending his financial stake in Lean Six Sigma. Yet he thought Washington could benefit from the management principles and tried to sell politicians on them.
Newt Gingrich, who spent several days in a Lean Six Sigma class in the 1990s as a congressman, last June became the first GOP candidate to sign George's pledge to end the budget deficit by 2017 with Lean Six Sigma. Then Herman Cain, Michele Bachmann, Ron Paul, and Rick Santorum signed on. George says the one Presidential hopeful he most wanted to win over was ex-consultant and dealmaker Mitt Romney. Yet by the time of the Iowa caucuses on Jan. 3, Romney had rebuffed him five times. "War it was to be," George says. So the 72-year-old Texas businessman decided to form a super-PAC and get behind one candidate: Gingrich. The candidate has name-dropped Lean Six Sigma in campaign appearances, media interviews, and Republican debates no fewer than 28 times since mid-2011, according to a Bloomberg News review of transcripts and news reports.
Known as Strong America Now, the political action committee doesn't take contributions from anyone else, meaning George has full control over its spending. So far he has put more than $200,000 toward mailers and automated phone calls for Gingrich. Paul Ryan, a lawyer with the Campaign Legal Center, describes it as a "mutually beneficial relationship" and legal. Campaign-finance laws prohibit candidates from coordinating with outside groups that back them; George and R.C. Hammond, Gingrich's spokesman, say the men haven't spoken to each other since George formed the super-PAC. More than anything, the relationship illustrates a new way for a wealthy donor to leverage an election as a public-relations tool for a product or message. It's "kind of amazing," says Craig Holman, a lobbyist with Public Citizen in Washington, a group that advocates for more regulation of political donations. "I could easily see it catching on: 'You tout my book, and I'll provide you with a portion of my proceeds.'"
Strong America Now spent its first $40,552 in late December on an Iowa mailer for Gingrich that said Romney "is the second-most dangerous man in America" (after Barack Obama). The same week a Newsweek cover story on Gingrich quoted him promoting Lean Six Sigma. During an event at a Dubuque (Iowa) golf club not long after, Gingrich said George "has been very heroic as a citizen" for promoting the Lean Six Sigma pledge. In a speech at the Conservative Political Action Conference in Washington two weeks ago, the candidate said: "We should replace the 130-year-old civil service system and regulation with a new model of modern management, using systems like Lean Six Sigma." Hammond says the campaign isn't concerned about perceptions that George's spending is influencing how often Gingrich mentions George and his brainchild. "What he is arguing," says Hammond, "is that if you retrain the bureaucracy and managers in that bureaucracy to streamline and make more efficient their processes, you spend less money."
George says he "can see why" some might suspect a quid pro quo but insists that's not the case. "I've got enough money," says George. "I don't need anything. I'm involved because I have wonderful experience that I'd like to share with the nation." Under the terms of his deal with Accenture, George's book royalties go to the company; a spokesman says Accenture isn't aware of an increase in sales. George says the agreement also prohibits him from starting a new business to promote Lean Six Sigma until August 2013. Right now Gingrich is the man to get his message out, but that could change. If Romney would sign the pledge, says George, "I'd kill the super-PAC tomorrow."
BOTTOM LINE -
The bottom line: Newt Gingrich regularly touts Lean Six Sigma, a management strategy created by a rich donor who started a super-PAC to support him.
Before it's here, it's on the Bloomberg Terminal.
LEARN MORE