Super Commuters Take the Morning Plane
For super commuters, getting to work is the hardest part of the job
By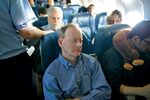 Most Monday mornings Karl Sparre is at Boston's Logan International Airport grabbing an orange juice and a muffin before hopping a 7:20 a.m. flight. After he lands at Philadelphia International Airport at about 8:45 a.m., Sparre boards a 40-minute commuter train that deposits him downtown. If all goes according to plan, the 56-year-old executive is at his desk on the 23rd floor of the Aramark office tower before 10:00 a.m.
Sparre's 300-mile odyssey of trains, planes, and automobiles qualifies him for membership in an expanding club of American workers. Professor Mitchell Moss at New York University calls them super commuters: men and women who work in a city far from where they reside—often 100 miles away or more. An analysis by Moss and his colleagues at NYU's Rudin Center for Transportation found that there are about 1.15 million such people living in 10 large U.S. metro areas—and their numbers are growing. From 2002 to 2009 the area surrounding Philadelphia saw a 50 percent increase; in the Houston area, they almost doubled. "It's really a very, very big, but dispersed trend," says Moss.
Employers have become more accepting of super commuters since the disruption of the recession and the collapse of the housing market, says Richard Marshall, who is in charge of recruiting public relations executives at search firm Korn/Ferry International. "Candidates are less inclined to want to uproot their families, and with the real estate situation, companies, frankly, are more flexible because they don't want to get stuck with properties candidates are upside-down in," says Marshall, who for the past four years has traveled each week to New York City from his Atlanta-area home.
With unemployment still high, workers also are loath to turn down a good job—even it means having to spend hours on the road. Sparre's commute from his home in Holliston, Mass., to his previous job at Sun Life Financial's offices near Boston used to take only 30 minutes. When his position was eliminated in 2010, Sparre's search turned up nothing nearby after many months. So about a year ago when he was offered the position of vice president for global talent acquisition at Aramark, a food service company, he accepted.
Now, on weekdays, Sparre bunks at his sister's house in Wilmington, Del., about an hour's drive from Aramark's Philadelphia headquarters. He keeps in touch with Kathy, his wife of 17 years, and his daughter, Nina, a sophomore in high school, with texts and Skype sessions. His 25-year-old son, who has a job in Boston, also lives at home. "You have to work at it," says Sparre. "All you have is weekends and there's never really enough time on the weekend. The relationship aspect should never be underestimated." Kathy plans to move to Philadelphia once their daughter heads off to college.
Sparre is one of an estimated 42,100 super commuters in the Philadelphia-Camden-Vineland (N.J.) corridor—a figure equal to about 7.3 percent of the area's workforce, according to NYU. Farther north, in the area around Manhattan, the number of super commuters is up 60 percent since 2002 to about 59,000 workers, or 3 percent of the labor force.
Moss says super commuters are quickly spreading outside traditional Northeast and West Coast strongholds. The Seattle area saw a 60 percent jump while the Houston area's increase from 2002 to 2009 led all markets. About 131,000 people, or 8.6 percent of the workforce in the Maricopa County area that surrounds Phoenix, meet the definition of super commuters, Moss says. Elena West, 45, has commuted weekly between Phoenix and San Francisco for seven years. The marketing chief for Robert Half International flies out of Phoenix on Sundays and returns each Friday. She rents a house in Menlo Park (Calif.), a five-minute drive from the staffing-service company's headquarters. Even after accounting for the rent on the Menlo Park house and the $250 to $300 a week she spends on US Airways flights, West figures it's cheaper for her and her husband, a financial planner, to stay at the home they own in Phoenix rather than to relocate to the Bay area, where real estate is far more expensive. "Companies are getting more and more comfortable with this trend as long as you're at the office when you need to be," she says. West uses an iPad and Skype to keep in contact with her office when she's shuttling between the two cities.
Moss's research shows the highest concentration of super commuters is in Texas. About 13 percent of the workforce, some 427,000 people, super-commute. Many travel the 240 miles between Houston and Dallas, one reason Southwest Airlines can run 25 flights a day on the route, says Alicia Hasell, managing director at executive search firm Boyden International. "Southwest runs like a Greyhound bus between the two cities," she says.
Rob Franklin, 40, eschews the airport for a 170-mile drive starting at 3:30 a.m. each Monday morning in his 2006 Honda Accord from his home in Austin to his job as a compliance manager at a financial services company in Houston. Sometimes he catches an hour of sleep in the parking lot in his car after arriving. Franklin says he lost his job in Austin, and after he found the new position in Houston, couldn't sell his home. "It can be difficult," he says, "but you are just trying to pay the mortgage."