business
Fastenal's Runaway Stock Success
By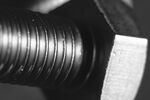 There's no shame in not knowing the top-performing stock since the crash of '87. It's neither Apple nor Microsoft, and deprived of the obvious candidates, most people draw a blank. That includes Bob Kierlin. When told that the answer is actually Kierlin's own company, Winona (Minn.)-based hardware supplier Fastenal, the 72-year-old founder responds with typical Midwestern understatement: "Oh, wow. Gee. Well, thanks. That's great news."
Kierlin, 72, surely knows how well his stock has done: He owns 13.6 million shares, now worth almost $700 million. In the past quarter-century, Fastenal is the biggest gainer among about 400 stocks in the Russell 1000 index that have been trading for at least 25 years, surging 38,565 percent, not including dividends, according to data compiled by Bloomberg. Adjusting for splits, the stock has gone from 13¢ on Oct. 19, 1987, to $50.85. It gained 60 percent over the past year.
Fastenal edged out UnitedHealth Group, whose stock gained 37,178 percent and far outstripped Microsoft's 9,906 percent, Apple's 5,542 percent, and the Standard & Poor's 500-stock index's 506 percent. Not bad for a company that literally sells nuts and bolts. "I can understand the disbelief," says Jonathan Chou, a vice president at mutual fund company T. Rowe Price Group, which started buying Fastenal stock many years ago and now owns a 12 percent stake in the company.
Chou attributes Fastenal's success to its stranglehold on the fastener-supply business: There is simply no other distributor that offers so many products in so many locations. The company has 2,600 stores that serve retail and wholesale customers, while its biggest rival, W.W. Grainger, has 450. Fastenal's 11,000-plus sales force is technically sophisticated and responsive to customers, Chou says. The company also boasts the kind of scale that allows it to buy hundreds of thousands of items at low cost from suppliers around the globe.
Fastenal's website lists 17 categories of fasteners spanning 10,701 pages. Click on bolts, and you'll see 18 subcategories across 2,471 pages. The breadth of offerings is an almost insurmountable barrier to competitors. "It would be very difficult to replicate this type of product assortment," says Chou. "The economic moat in this business grows as Fastenal grows."
While Fastenal's products may be mundane, companies can't live without them. "What Fastenal stocks and sells is essential," says Morningstar analyst Basili Alukos. "If you don't have enough or the right kind, your plant will shut down. Factories are willing to pay a huge convenience premium to a single distributor that can make sure their supply is safe."
Kierlin says that the idea for a store that offered a vast variety of nuts and bolts—threaded fasteners, as they're known in the trade—came from his childhood. His father's auto parts shop was across the street from Winona's main hardware store. Customers, Kierlin says, kept bouncing between the stores to order hex-cap screws, axle nuts, and cotter pins. In 1967, one year after he returned from a stint with the Peace Corps in Venezuela, that memory inspired him. "Here I'm thinking," he recalls, "why can't you have a store that sells everything?"
Originally he thought to sell the fasteners in cigarette pack-size boxes from vending machines placed around town. When he found that no machine could hold enough boxes, Kierlin resolved to raise money to start a conventional store. "It was the craziest thing to ask people to invest in a company selling nuts and bolts," he says. Even so, Kierlin persuaded four high school friends to chip in a total of $30,000 to found Fastenal. "We didn't have a lawyer," he says. "We tried to do it on the cheap." One of his pals vetoed Kierlin's preferred name—Lightning Bolts.
Fastenal's first delivery vehicle was a banged-up Cadillac Coupe de Ville that always veered to the right. The company's first office desk was a wooden rolltop Kierlin bought for $25 from a laundry that had gone out of business. The original shop had 1,000 square feet on one floor, plus a similarly sized basement (rent was $50 a month) and was lined with kegs that each held 5,000 nuts or screws. When that store filled up, Kierlin rented seven residential garages around Winona and bought 30,000 surplus cardboard toothpaste cartons to hold hardware. "Had you visited our stores in that era," says Kierlin, "you would have thought we were selling toothpaste rather than fasteners."
By 1987, Fastenal had 45 stores, mostly in small and midsize towns, and the owners decided to take it public. The stock started trading in August 1987, two months before the market crashed. While the company's shares fell about 20 percent in the rout, it made up most of that loss by the end of the year. Fastenal had 250 employees at its initial public offering and allocated 100,000 of the offering's 1 million shares to its employees. Kierlin and his partners also earmarked proceeds to set up an educational foundation for their alma mater, Cotter High School. The company estimates that it provides about $100 million a year to Winona (population 28,000) in employee compensation and dividends paid to local shareholders.
Today, Fastenal has a market value of $15 billion. Net income grew to $358 million in 2011 from $6.4 million in 1990; revenue climbed to $2.77 billion from $52 million. It has stores in all 50 states and has also moved into Mexico, Canada, Central America, Asia, and Europe, often by setting up facilities near U.S. customers that are expanding in those markets. And it finally rolled out a version of that vending machine Kierlin dreamed up 45 years ago, pitching it as a "fully customized and automated Fastenal store within the customer's location." Fastenal installed nearly 5,505 of them last year.
None of this means that Fastenal's stock will keep scorching the market. Charles Carnevale, chief investment officer of EDMP, a money manager in Lutz, Fla., calculates that Fastenal's shares now trade at 42 times the previous 12 months' earnings, more than double the company's expected earnings growth of 19 percent. He also thinks Fastenal's dividend yield of 1.3 percent is too low. "Fundamentals," he says, "don't compensate for the risk."
That doesn't bother Kierlin. He says that for all of its success, Fastenal has less than 3 percent of a $150 billion U.S. market, giving it plenty of room to boost sales. And he's excited that demand for its vending machines is torrid. Fastenal is growing even faster overseas than it is domestically, he adds, so "the best years are still ahead."
Before it's here, it's on the Bloomberg Terminal.
LEARN MORE