Book Review: 'Mad Women', by Jane Maas
A memoir of the Mad Men era brings fresh perspective on all that sex and drinking
Jim Kelly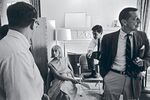 Mad Women:
The Other Side of Life on Madison Avenue in the '60s and Beyond
By Jane Maas
St. Martin's Press
228pp; $24.99
 
(Corrects spelling of ad agency's name in photo caption.)
Advertising has one aim: to pitch a product as something desirable. There are different ways to move the merchandise—this car or that cereal or this beer will make you feel younger, slimmer, sexier. This may be the only thing the Pillsbury Doughboy and David Beckham have in common: They mean to persuade you that dinner rolls and cotton briefs, respectively, are something you need—or better yet, crave.
So it isn't surprising that a show about the advertising industry in the 1960s has made that world—with its morning Scotch, clicking cigarette lighters, crisp white shirts, and mahogany furniture—seem so bright and compelling that any other business, at that time or ours, looks about as inviting as being Donald Trump's barber. Mad Men returns for its fifth season next month, and once again Don Draper will succeed in making us nostalgic for a universe few of us ever knew. Was there really more carousing at Sterling Cooper in the early 1960s than, say, at a movie studio or a newsmagazine or the White House swimming pool? Doesn't matter. Mad Men has proven the perfect vehicle to advertise and explore the mood and mores of that decade.
How accurate is this image we're being sold? More than a few journalists with expense accounts have convinced their editors that this is a question worth investigating. And so we have veteran admen like Jerry Della Femina telling the Financial Times, "We made the Mad Men guys look like Rebecca of Sunnybrook Farm," while George Lois insists to the New York Times that his days, at least, were filled with "hard, hard work and no nonsense."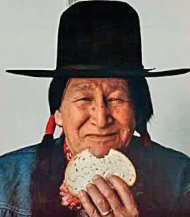 It makes sense that male veterans are usually asked to comment on the show, since men pretty much ran Madison Avenue in those days. But some of the best story arcs in Mad Men revolve around the female characters, notably secretary-turned-copywriter Peggy Olson and office manager Joan Harris, who serve not as mere foils for the show's male executives, but as bellwethers of the Sexual Revolution. How much of their lives rings true? That's the question Jane Maas attempts to answer in Mad Women: The Other Side of Life on Madison Avenue in the '60s and Beyond. Drawing from her own experience and more than two dozen interviews, Maas answers the question, all right, but in such a rambling way that the reader wishes show runner Matthew Weiner had edited the book.
Maas began her career in 1964 as a copywriter at Ogilvy & Mather, where she worked on accounts such as Dove dishwashing liquid and Maxim instant coffee. (Don't add these items to your shopping list; the products no longer exist.) Maas left O&M in 1976 to join Wells Rich Greene, where she helped launch the "I Love New York" campaign. She rightly points out that everyone and their dog has taken credit for the campaign. But as many fathers as it may have (including Milton Glaser, who created the heart logo, giving up the copyright for a $1,000 fee) the campaign can claim only her as a mother.
Missing from the author's advertising résumé is anything like a Jolly Green Giant or Charlie the Tuna. But Maas, like any good copywriter, does her best with the material she has—she doles out anecdotes as liberally as if she were running a free samples table at Costco. Although Maas makes some attempts to broadly characterize the culture of Madison Avenue (she reports that Young & Rubicam was the sexual hotbed that served as the model for the show's Sterling Cooper, while J. Walter Thompson seemed like a monastery), she is best at bite-sized vignettes.
On sex: A new account executive at Dancer-Fitzgerald-Sample is asked to set up a date for a client, and offers to call up some of his ex-girlfriends, only to discover that's not the kind of evening his client had in mind. So on the advice of an unfazed art director, the executive goes to buy a copy of SCREW magazine, whose personals (thank heavens for advertising!) solve his problem. He circles a few, calls some of the women, scribbles some notes on the ads, and Date Night is taken care of. Imagine his wife's surprise when she comes across that copy of SCREW in his briefcase and sees a bunch of circled ads with words like "too rough" and "promising" written next to them.
On drinking: Wells, Rich, Greene apparently had such talented in-house bartenders that one of Maas's clients started calling early-morning meetings for the Bloody Marys, earning the nickname "Jane's Bloody client." Few others drank in the morning, but they sure made up for it in the afternoon. True, this was before cocktails got super-sized, but three 2-ounce martinis still added up to 6 ounces, even in 1964.
One wonders where HR (or Personnel, as Human Resources was called) fit into the picture. Maas recounts how she had to beat back an amorous boss by saying she was having her period, and tells how a secretary got fired for having sex in a doorless office while her partner received a promotion (and a new office, this one with a door). Pregnant women tended not to get hired, and those on the job were often not welcomed back once they became mothers. Just as the Pill, approved in 1960, made the shenanigans possible, employment law in the 1970s made the office a fairer place.
To devotees of Mad Men, Maas's exercise may have a sobering effect. She faults the show for not depicting working mothers, who needed clerical jobs to support their families. But this is like faulting Big Love for not having Mitt Romney in the cast. Mad Men, like the herbal cigarettes the actors smoke on the Los Angeles set because California law forbids tobacco in the workplace, only pretends to be real. Is it any wonder that Mad Men is more entertaining than Mad Women?
Before it's here, it's on the Bloomberg Terminal.
LEARN MORE