The DIY 'Maker Movement' Meets the VCs
An open-source ethos may spell a culture clash with investors
Alexandra Dean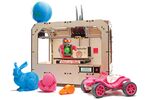 In a light-filled loft in lower Manhattan, a dozen young workers stuff tiny circuit boards and empty Altoids cans into plastic bags. These will be packed into kits and shipped to do-it-yourselfers worldwide, who use the components to create homemade smartphone chargers. The loft, a former Wall Street trading floor, is the headquarters of Adafruit Industries, an electronics distributor that last year sold $5 million worth of Altoids kits, TV-B-Gones (remotes guaranteed to silence any television), and hundreds of other oddball products. Coming soon: a wired video jacket that plays movies and jewelry embedded with pulsating LED lights. "Over the last year, we've doubled in revenue; in number of products, we've quadrupled," says Phillip Torrone, creative director of the seven-year-old company.
Adafruit is one of hundreds of growing ventures in the U.S. that belong to the so-called maker movement. These companies sell kits and support online communities of DIY types who make everything from toys to robots to 3D printers, and their moment seems to have arrived: Maker Faire, the movement's Woodstock, attracted perhaps 20,000 hard-core devotees five years ago. At last year's events in Detroit and New York, hundreds of thousands of people flocked to presentations sponsored by the likes of PepsiCo, Ford, and Microsoft. And electronics giants Microchip Technology and Texas Instruments, hoping to profit from the maker zeitgeist, last year began offering their own kits. The maker movement is "as significant as the shift from agriculture to the early industrial era," says Jeremy Rifkin, a Wharton economist.
As maker companies go mainstream, though, they are finding that investors may not share their ideals. They were hatched by tinkerers who break open electronics and repurpose them, for instance using the 3D motion sensors in Microsoft's Kinect game technology to make their inventions obey physical commands. As a result, makers insist on openly sharing their discoveries and knowhow. To keep their ideals intact, dozens of leading makers have pledged to issue open-source patents that would ensure their products could never be made secret.
Today, with some expanding quickly and considering selling equity to venture capital firms, they have to reconcile their maker values with economic reality. Jeff Bocan, a managing director at Beringea, a Detroit venture capital firm that backs manufacturers, says the idea of sharing would make him reluctant to invest in a maker company. "It's really hard to build a business where you have no competitive advantage," says Bocan.
Despite their passion for collaboration—or perhaps because of it—maker companies are thriving. Parts wholesaler Sparkfun Electronics, in Boulder, Colo., says its annual sales are well over $20 million. Chris Anderson, founder of 3D Robotics in San Diego, which sells kits to make tiny aircraft mounted with cameras, says his 16-employee company is approaching sales of $3 million annually. MakerBot Industries in Brooklyn employs 82 people and in the past three years has sold about $10 million worth of kits for building 3D printing machines, which makers use to forge their creations.
For all these companies, making intellectual property public has helped drive growth, says MakerBot co-founder Bre Pettis. "Our users, our customers … are our collaborators," he says. The community acts almost like a free research and development arm, Pettis argues, and that is more valuable than owning the intellectual property rights to his products. "Because they have all the data, all the information, all the source code for MakerBot, they can make changes, make improvements," he says, "and everybody benefits."
Brad Feld, managing director of the Foundry Group, a venture capital firm in Boulder that backed game maker Zynga, invested $10 million in MakerBot. Feld is a strong believer in open-source hardware who studied under Eric von Hippel, a leading maker at Massachusetts Institute of Technology. "MakerBot has the potential to be the Apple or HP of the 3D printing market," Feld wrote on his blog at the time. Says Pettis: "Our investors get it; they know the community focus is what's going to win."
Adafruit founder Limor Fried notes that many maker companies—Adafruit included—have dealt with the issue by avoiding equity investments. "We are not on any deadline to sell the company," says Fried. "Our only responsibility is to the open-source hardware community and our customers."
Before it's here, it's on the Bloomberg Terminal.
LEARN MORE