Record Profits, but Still Mixed Success at GM
by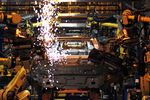 The term "record earnings" tends to enhance the mood of all who hear it. On one level, General Motors' record annual profit is clearly good news. America's largest automaker earned $7.6 billion on $150.3 billion in sales in 2011, just two years after taxpayers bailed it out. Moreover, its once-weak compatriots in the U.S. auto sector—Ford Motor and Chrysler Group—reported profits for the year, as well. That's the first time the Big Three, as old-timers fondly call them, have all been profitable since 2004.
But those profits have come at a cost. After years of watching companies build up cash even as the overall economy was in decline, Americans know all too well that the bottom line is only part of the picture. Not only has GM won back its financial health by closing plants and reducing wages, it's not yet thriving in some areas that matter.
Consider what's happening on the actual assembly line. While sales rose across the board, Americans bought only about 12.8 million cars and trucks last year. That's quite a comedown from the industry average of 16.8 million in annual sales from 2000 to 2007, according to researcher Autodata. The good news is that GM was able to boost its total while also reducing the incentives needed to get people to buy. But it still made less profit per vehicle, as Americans bought fewer high-margin trucks, and GM lost market share from December through January.
For most Americans, the bigger concern is jobs. The Center for Automotive Research has estimated that more than a million jobs were saved by the U.S. auto industry bailout. The actual number of workers once employed in the sector, though, may never return. From 2000 to 2009, the number of people employed by the auto industry fell from 1.13 million people to 500,000. While that number is expected to creep back to more than 750,000 if sales continue to rise, the reality is many of the remaining jobs may be history.
More important, perhaps, those jobs that do come back will pay less and carry fewer benefits. U.S. automakers have adopted the two-tier pay system that is also credited with helping the airline industry. New workers are being hired at $15.78 an hour, or about half the rate of those hired under older union agreements. Of course, few can argue for the sustainability of pay-and-benefit packages at two to three times that level in today's global economy. (Journalists and politicians cited autoworker pay rates as high as $75 an hour around the time of the bailout, though some $15 of that was from retiree benefits, and others dispute the calculations.) But it's a stark reminder that the auto industry is no longer a reliable ticket to a middle-class life. While GM's 47,500 blue-collar workers will now get a $7,000 profit-sharing bonus, that's a fraction of the money worker groups have lost under new contracts.
It's not just labor that's yet to experience the full fruits of GM's earnings rebound. GM shareholders, who are still waiting for shares to regain their $35 initial public offering price, might argue that what's needed now is even more cost-cutting, especially in sagging markets such as Europe. And taxpayers who opposed giving the company $50 billion in support and $15 billion in additional tax write-offs also may balk at the fact that they still face billions of dollars in losses from the bailout.
Before it's here, it's on the Bloomberg Terminal.
LEARN MORE