Italy Aims to Tax Catholic Church Property
By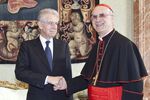 The Santuario della Verna monastery in eastern Tuscany was established in the 13th century to commemorate a miracle: the appearance of stigmata wounds on the body of St. Francis of Assisi as he prayed in a nearby cave.
Almost as miraculous are the rates that the monastery charges for a night in one of its 72 guest rooms: €52 (about $68), including meals in the downstairs refectory. One reason for the low prices is that the monastery pays no property taxes. Under Italian law, most buildings owned by the Catholic Church are tax-exempt, even if used for commercial purposes.
That could soon change. In an announcement posted Feb. 15 on the government's website, Italian Prime Minister Mario Monti said he would seek legislation requiring the church to pay taxes on all its commercial holdings. About one-third of the 100,000 properties owned by the church in Italy are used for commercial ventures, according to Italy's Radical Party, which has long campaigned against the tax exemption.
Existing laws say that church-owned buildings used for "purely commercial" purposes are to be taxed. But many ventures, such as the Santuario della Verna guesthouse, remain exempt because they are attached to properties used for religious purposes. (Property within Vatican City, which is a sovereign state and therefore not subject to Italian laws, would not be affected by the government's plan.)
Taxing church property could help Monti solve two problems. First, he's looking for new sources of revenue to supplement a $40 billion austerity plan adopted by Parliament in December. With most citizens being asked to pay higher taxes, calls are increasing for the church to share in the sacrifice. Taxing all church properties would yield an additional $130 million in revenue, Paolo Berdini, an urban planner and consultant for local administrations, told Bloomberg News in January.
Separately, European Union regulators in 2010 opened an investigation into the church's tax status, after the Radical Party complained that the tax exemption distorted market competition. "The government's initiative will allow the European Commission to close the procedure," Monti's announcement said. Monti was the EU's competition commissioner from 1999 to 2004.
Church officials are waiting to review the government's plan before commenting in detail, Monsignor Domenico Pompili,a spokesman for the Italian Bishops' Conference, said in a statement released on Feb. 16. However, he said he hoped the government would "take into account the social value of the vast nonprofit world" before taking action on the church's tax exemption.
Before it's here, it's on the Bloomberg Terminal.
LEARN MORE