How Business Cards Survive in the Age of LinkedIn
How the archaic business card endures in the age of LinkedIn
Roger Bennett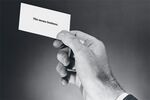 A product of French ingenuity during the reign of Louis XIV, the humble business card should be among the dead and buried in this era of social media and cloud computing. Mo Koyfman, a principal at the venture fund Spark Capital, captured the prevailing mindset of many forward thinkers when he recently declared, "I despise business cards. Using them feels so horse-and-carriage."
Koyfman is not alone. Search for "business card is dead" and you will discover an avalanche of obituaries. But reports of the 3 ½-by-2-inch business staple's death appear to have been greatly exaggerated. Despise and deride it all you like, but the business card remains a growth market. How has this 17th century technology not just survived but continued to flourish?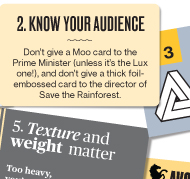 If business cards were to die, the prime suspect would be LinkedIn, the professional social networking platform reported to have engaged 135 million users in more than 200 countries. "Business cards were originally invented for reasons of legitimacy," says Nathan Shedroff, design strategist at California College of the Arts. "But since the 1980s, when you could custom-print 50 fake cards and pass yourself off as anyone, a résumé has become more trustworthy. [This is] the area in which LinkedIn is king."
LinkedIn acquired CardMunch in January 2011, an app designed to instantly scan and store the information on a business card, creating digital contact details. Co-founder Sid Viswanathan was originally inspired by the drudgery of transcribing a mountain of cards garnered at a tech conference. The task took four hours by hand, offering plenty of time to dream up a more effective method. "The business card's weakness is that it is a flat, one-dimensional piece of paper that goes out of date immediately," Viswanathan explains. "CardMunch connects it to the résumé in the digital world so you get to know the person behind the card—the what and the where, not just the who." CardMunch was relaunched last November with its recognition abilities now integrated into LinkedIn's vast network of résumés, relegating the business card to a mere gateway to the social network. But even Viswanathan concedes there's a long way to go. "The business card remains pervasive. Our goal is not to kill it but to thoughtfully replace it."
A bold ambition, and LinkedIn is not the only product placing the business card in its cross hairs. A veritable firing squad of awkwardly named applications, including Cardcloud, CardFlick, DooID, uME, and TwtBizCard, are hellbent on providing the killer app that will become Business Card 2.0.
A closer look at the learning curve of one of the most buzzed-about contenders, Bump Technologies, illustrates the hidden challenges these aspiring category killers face. Bump stripped the business card of its aesthetics and made it transferable on iPhone or Android platforms via a simple tap of devices. "There is nothing more satisfying than knowing your contact information is going right into someone's phone rather than left to languish in a drawer," says Sadie Bascom, whose job title is Bump Evangelist.
The product was fast out of the gate, reporting 53 million users since its March 2009 launch, but a recent internal evaluation surprised its founders. The deep dive revealed that despite its design as a business product, it was primarily serving an after-hours function as a social tool. "There are so many barriers we have encountered within the business world," Bascom admits, "Not everyone has Android or iPhones, BlackBerry users can't bump, and huge conference centers often have poor wireless reception, which leads to dropped signals."
CardMunch and Bump are good illustrations of ideas sounding better than their realities, says Koyfman. "CardMunch is a mere bridge technology, and there is too much friction surrounding successful bumping for it to succeed." Other analysts believe the business card has a secret lo-fi strength that even the most Asimov-esque flight of fantasy cannot replace: "The act of theater surrounding the exchange of a business card allows for flirtation, self-expression, and recognition," says Shedroff. "Bumping may be fun, but in comparison to analog business card exchange it's the difference between having sex and merely exchanging bodily fluids."
There are good reasons why business cards remain such a successful networking tool, says Richard Moross, chief executive officer and founder of Moo.com, a booming online business card printer: "They don't require batteries, experience no intercompatibility problems, require no sign-up, and everyone in the world understands them."
Moo.com enables the speedy creation of giddy, customizable cards in tiny batches, marrying rapid advances in modern printing with the explosive growth of small, entrepreneurial businesses. The company, based in London and Rhode Island, printed 50 million business cards in 2011 and expects to double that in 2012. "This is a large, profitable sector," Moross claims. "Forty-five percent of our business is in the U.S., and we estimate our sector as a $3 billion market, which despite its size is extremely fragmented, lacking a lot of dominant players."
Evan Shapiro, president of IFC and Sundance Channel is targeting a share of the market by launching a business card startup, UR IDeal. The executive producer of the cult TV show Portlandia is also an ardent business card aficionado. "Those who predict the business card's demise have lost touch with its prime function. It is not a simple information exchange, it is a profound expression of identity."
"LinkedIn is no more your personal brand than Farmville is your personal business," Shapiro explains. "You cannot be unique and allow your brand to be a template designed in Silicon Valley that offers the same plodding terms: 'managed,' 'coordinated,' 'oversaw.' "
Shapiro's new company allows consumers to custom-make a high-concept identifier that resembles a pack of playing cards. The idea was born on a national marketing tour when the television executive used a playing-card box to house his own business cards. "Whenever I pulled them out, they were a conversation piece and the perfect closer." Buoyed by this response, Shapiro quickly set about building the company. "We view ourselves as the microbrewery of business paper products, and we won't stop until America is a nation of individuals."
Before it's here, it's on the Bloomberg Terminal.
LEARN MORE