1-800-Flowers Gets No Bouquets From the Disappointed
By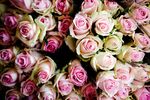 By the time Eric Toda's work day was winding down on Feb. 14, one thing was clear: 1-800-Flowers had failed to deliver a bouquet to his wife on Valentine's Day. So Toda did what any reasonable Facebook employee would do: He went on Twitter to complain. As he stated in his initial tweet, "@1800flowers whats the point of paying extra to have flowers delivered on 2/14 if theyre never delivered? riddle me that. RIDDLE ME THAT!"
When Monique Gill of San Francisco tweeted that he should have gone with ProFlowers instead, Toda responded that he wished he'd sent his wife a pizza before adding "i hate you @1800flowers". The stream of Twitter invective continued for hours, with Toda demanding that "in addition to my refund I want you to write me a letter explaining what happened, but everything has to rhyme." He compared the online florist's customer service unfavorably to a prostate exam and the Department of Motor Vehicles before threatening "refund, now. Or its hardball time."
For 1-800-Flowers, dealing with disappointed customers like Toda is all in a day's work. But throw in dozens of angry customers on the second-biggest day for flower deliveries all year (Mother's Day is first), and crisis can ensue.
For much of Valentine's Day, the company's Twitter feed was a stream of angry posts from men and women whose flowers had arrived dead, damaged or—more often—not at all. Messages ranged from the haiku-like "thanks for nothing" and "1800flowers sucks" to desperate pleas for last-minute roses and full-scale profanity. Through it all, a handful of apologetic staffers with names that included Stephanie, Rachel and Kim scanned the Twitter landscape for kvetchers and crafted responses to customers such as @StrongAsMeat and @DirtyohDirty.
Not everyone felt the glow of a warm response from the florist's team. Nicole Brockhouse of Jacksonville, Florida, says her boyfriend placed an order for a dozen roses, received confirmation that they were delivered, and had to explain why they weren't there. Several calls went unanswered while her tweets and messages to the company yielded nothing. Brockhouse says there's no excuse for poor customer service from a florist on Valentine's Day. "This is their field of expertise," says Brockhouse. "They should have been better prepared."
Was Valentine's Day 2012 worse than usual in terms of delivery snafus? 1-800 Flowers CEO Chris McCann didn't respond to a request for comment, making it hard to tell. But clearly it's easier for disappointed customers to be heard now, via social media. Customers can at least take heart in the fact that their online outburst got some notice. With 1-800-Flowers following everyone who'd made a complaint, victims got something that's arguably more special than a second-day bouquet: a chance to expand their Twitter following.
Before it's here, it's on the Bloomberg Terminal.
LEARN MORE