Will Japan Be a Nuclear-Free Zone?
As Japan's plants shut down for safety checks, the bill mounts
By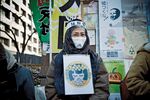 For months now, Japan has been shutting down its 54 nuclear reactors for routine maintenance and safety checks. At the current rate, the country will have no nuclear-generated power as of May, not long after the first anniversary of the tsunami that caused a meltdown at Tokyo Electric Power's Fukushima Dai-Ichi station. The plan is to restart the reactors once their ability to withstand severe shocks, including earthquakes and tsunamis, is proven. The question is whether ordinary Japanese and local governments will block the central authorities from firing up the reactors ever again.
The country now has just three operating reactors, after one more was idled on Jan. 27. According to an NHK television poll in November, nearly 70 percent of Japanese want to reduce or end the use of nuclear power. In this atmosphere, the fact that Japan will be free of nuclear power within three months could have a "psychological" effect, says Yuji Nishiyama, an analyst with Credit Suisse Group. "If we experience a zero-nuclear situation, the argument that we don't need nuclear power anymore will be stronger. But at the moment we cannot live without nuclear power. We may not need 50 reactors, but we do need about 10 or 20."
Atomic reactors provided about 30 percent of Japan's electricity before the Fukushima disaster. As the shutdowns continued, utilities were forced to rely more on oil- and gas-fired power plants. A total switch from nuclear to fossil fuels would require the equivalent of 323 million barrels of oil a year, adding about $34 billion to the country's annual import bill, according to Osamu Fujisawa, an independent energy economist in Tokyo. Japan's consumption of liquefied natural gas jumped 32 percent in December from a year earlier, while crude oil use increased more than fivefold, according to the Federation of Electric Power Companies.
Economy, Trade and Industry Minister Yukio Edano says Japan may well have no nuclear plants operating this summer, so the government is taking steps to avoid power shortages, the Asahi Shimbun reported on Jan. 26. Local governments, which typically have to give their approval before a reactor goes back into operation, are starting to balk at the idea of restarts. Yuhei Sato, governor of Fukushima, site of two Tokyo Electric nuclear stations including Dai-Ichi, vows to make the region nuclear-free. Hirohiko Izumida, governor of Niigata, home of Tokyo Electric's Kashiwazaki Kariwa plant, will "never" negotiate with the utility on restarts until all the deficiencies exposed by the Fukushima accident are explained and corrected, says the governor's spokesman, Takeshi Kumakura. The findings of an investigation into the accident are due to be published at the end of July.
As the peak demand season of summer approaches, the resolve of both sides will be tested, with direct consequences for the economy. "If you get a certain amount back online, you're not going to have a horrible problem," says Penn Bowers, a utilities analyst with CLSA Asia-Pacific Markets. "If you have zero, that leads to a significant impact."
BOTTOM LINE -
The bottom line: In December, with most reactors idle, Japan's use of crude oil increased more than fivefold, and liquefied natural gas jumped 32 percent.
Before it's here, it's on the Bloomberg Terminal.
LEARN MORE