Bid & Ask: The Deals of the Week
Noteworthy expenditures of the week
By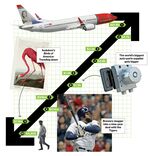 1. Norwegian Air Shuttle ordered 222 Boeing and Airbus airliners valued at $21.5 billion. The discount carrier is adding to its fleet of fuel-efficient models.
2. Swiss drugmaker Roche offered $5.7 billion in a hostile bid for Illumina after the San Diego gene-mapping company rebuffed an earlier bid.
3. Spanish utility Iberdrola is offering $3.4 billion to raise its stake in Brazilian power company Neoenergia from 39 percent to 75 percent, according to a person close to the deal.
4. Houston-based Apache agreed to buy Cordillera Energy Partners for $2.9 billion. The deal more than doubles Apache's oil and gas holdings in the Anadarko Basin.
5. Pan American Silver is buying its Vancouver neighbor Minefinders for $1.5 billion in an effort to expand its silver production in Mexico.
6. Bosch, the world's biggest auto-parts supplier, will purchase SPX's vehicle servicing business for $1.2 billion.
7. HSBC is selling its operations in Costa Rica, El Salvador, and Honduras to Banco Davivienda for $801 million. The London bank is also unloading its consumer unit in Thailand for $115 million.
8. The Detroit Tigers have reportedly signed former Milwaukee Brewers first baseman Prince Fielder to a nine-year, $214 million contract, the fourth $200 million deal in baseball history.
9. A first edition of John James Audubon's Birds of America fetched $7.9 million at a Christie's auction, far below the $11.5 million auction record for a first-edition Audubon.
10. A bronze death mask of former Soviet dictator Joseph Stalin, plus molds of his hands, sold for $4,300 at a Mullock's auction in Shropshire, England.
Before it's here, it's on the Bloomberg Terminal.
LEARN MORE