The Friday Makeunder
Jennifer Kim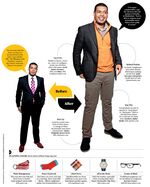 For an upbeat guy, Charles Hill sure has a funereal closet. "I only wear suits, period, because impressions are everything," says the 30-year-old risk analyst at Manhattan-based investment house Dreyfus. "To get that next client, network with the best, or close a deal, you have to be perceived as the best." On certain occasions, yes, the suit is the trusty armor of necessity—but your everyday panoply needs some variety.
Meet "business casual": the art of traveling between worlds—the workday and the weekend—and combining styles to assemble a fresher, bolder look, one that is not only dressy enough for a client meeting but also unstuffy enough for a team happy hour. If you're not interviewing for a new job or lunching with your managing director at Le Bernardin, consider breaking apart the suit: Pair the jacket with chinos, or your slacks with a sweater. "You're definitely able to express your personality more when your outfit is casual," says Hill, after sampling his new Bloomberg Businessweek-chosen threads. Here's how to follow suit.
Before it's here, it's on the Bloomberg Terminal.
LEARN MORE