Spam Works
Behind the drug advertisements in your inbox is a multimillion-dollar mail-order pharmaceutical business
By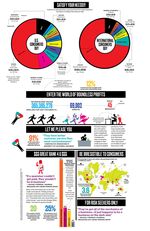 Every day three-quarters of all e-mail that flies across the Internet is spam. Some of it tricks customers into installing a virus or forking over personal information to use illicitly. But many spam messages are advertisements for companies that sell real goods, usually prescription drugs, knock-off watches, and pirated software. Millions of Americans see it as a way to save on drugs. "You pay the money, and you get a product," says Stefan Savage, computer science professor at the University of California, San Diego.
Over several years, Savage has helped bring together a team of more than a dozen researchers at UC Berkeley and UC San Diego to try to understand the economics of spam. Among their findings: A surprising 91 percent of purchases are ultimately delivered, but the "Viagra" mailed to you may not contain the correct dosage or even the right active ingredient.
Savage and his team collected billions of spam e-mail links and have made more than 200 randomized purchases to track the transactions. They traced the spam back to a handful of mostly Russian merchants—known as partnerki—that run sprawling business networks with customer service reps, outsourced distribution, and even bankers. The researchers also got a rare glimpse into the shopping carts of customers to see what they actually buy, the demand that keeps spam businesses alive.
Before it's here, it's on the Bloomberg Terminal.
LEARN MORE