Bid & Ask: The Deals of the Week
Noteworthy expenditures of the week
By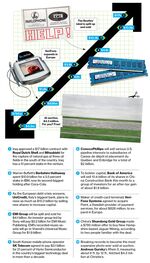 1. Iraq approved a $17 billion contract with Royal Dutch Shell and Mitsubishi for the capture of natural gas at three oil fields in the south of the country. Iraq has a 51 percent stake in the venture.
2. Warren Buffett's Berkshire Hathaway spent $10.9 billion for a 5.5 percent stake in IBM, now its second-biggest holding after Coca-Cola.
3. As the European debt crisis worsens, UniCredit, Italy's biggest bank, plans to raise as much as $10.3 billion by selling new shares to increase capital.
4. EMI Group will be split and sold for $4.1 billion. An investor group led by Sony will pay $2.2 billion for EMI Music Publishing. EMI's recorded-music assets will go to Vivendi's Universal Music Group for $1.9 billion.
5. South Korean mobile-phone operator SK Telecom agreed to pay $3.1 billion for 21 percent of Hynix Semiconductor in the country's biggest technology deal in more than a decade.
6. ConocoPhillips will sell various U.S. pipeline interests to subsidiaries of Caisse de dépôt et placement du Québec and Enbridge for a total of $2 billion.
7. To bolster capital, Bank of America will sell 10.4 billion of its shares in China Construction Bank this month to a group of investors for an after-tax gain of about $1.8 billion.
8. Maker of credit-card terminals Verifone Systems agreed to acquire Point, a Swedish provider of payment services, for about $826 million, to expand in Europe.
9. China's Shandong Gold Group made a $785 million offer to buy New Hampshire-based Jaguar Mining, according to two people familiar with the deal.
10. Breaking records to become the most expensive photo ever sold at auction, Andreas Gursky's Rhein II, measuring about 6 ft. by 12 ft., fetched $4.3 million at Christie's.
Before it's here, it's on the Bloomberg Terminal.
LEARN MORE