Europe's Insult Diplomacy
Is it really any wonder that a deal has been hard to come by?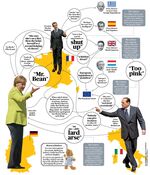 Is it any wonder that a deal among European Union leaders is hard to come by? Just look at what they say about each other. British Prime Minister David Cameron called French President Nicolas Sarkozy "a hidden dwarf" as part of a joke told to a journalist. German Chancellor Angela Merkel referred to Sarkozy as "Mr. Bean," while Sarkozy called her "La Boche," or the Kraut. Spanish Prime Minister José Zapatero is "too pink" because of the high proportion of women in his cabinet, said Italian Prime Minister Silvio Berlusconi. And Berlusconi's opinion of the euro? "A disaster," he said, that has "screwed everybody." — Compiled by Spencer Bailey          
Before it's here, it's on the Bloomberg Terminal.
LEARN MORE