Dave Camp's International Tax Plan
The House Ways and Means chairman's proposal is so complicated, it just might get companies with overseas profits to come home
By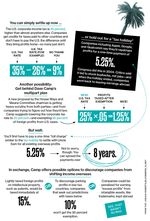 American companies that do business abroad have stashed more than $1 trillion in profits outside the U.S. They say they'd repatriate those earnings if U.S. corporate tax rates weren't so high. That money could help boost the economy and create jobs—leading Congress to look for ways to entice corporations to bring it home. Herewith, a not-too-painful primer on international tax law.
 
You say you've made a fortune overseas and want to bring it back? Good for you, patriot
Before it's here, it's on the Bloomberg Terminal.
LEARN MORE