Bid & Ask: The Deals of the Week
Noteworthy expenditures of the week
By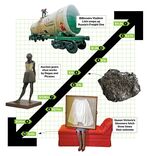 1. Steel magnate Vladimir Lisin's Universal Cargo Logistics Holding bought almost 75 percent of state-owned Russian Railways' Freight One cargo unit for $4.2 billion.
2. TMX Group, owner of the Toronto Stock Exchange, recommended that shareholders accept a $3.7 billion bid from a group of Canadian banks and pension funds.
3. China's No. 3 brokerage by market value, Haitong Securities, will seek approval to sell shares on the Hong Kong exchange, hoping to raise $1.8 billion, say two people familiar with the matter.
4. Bakrie & Brothers, controlled by Indonesian billionaire Aburizal Bakrie, agreed to sell part of its stake in coal producer Bumi to Borneo Lumbung Energi & Metal for $1 billion.
5. Winsway Coking Coal Holdings of China and Japan's Marubeni are buying Canadian metallurgical coal producer Grande Cache Coal for about $1 billion.
6. TNK-BP, Russia's third-largest oil producer, will pay $1 billion over two years for a 45 percent stake in the Amazon exploration areas of HRT Participacões em Petróleo, based in Rio de Janeiro.
7. Honeywell International, the New Jersey company whose product lineup includes protective industrial footwear, is buying Singapore shoemaker King's Safetywear for $338 million.
8. Yahoo! will pay $270 million for New York-based Interclick to add technology that helps advertisers with online data and analytics needs.
9. Sales at Christie's latest auction of Impressionist and modern art in New York were $141 million, below the presale estimate of up to $304 million, as buyers shunned works by Degas and Picasso.
10. An enormous pair of silk bloomers once owned by Queen Victoria sold for $15,000, three times the original estimate, at an Edinburgh auction featuring a Forbes family collection.
Before it's here, it's on the Bloomberg Terminal.
LEARN MORE