A Costly Flood in Thailand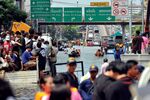 The floodwaters of the Chao Phraya River north of Bangkok have finally rolled into the country's biggest city. Before reaching the metropolis, the waters swept through industrial zones in Pathum Thani and Ayutthaya provinces.
 
The Deluge: 9 billion — Cubic meters of water were released in October from dams filled to capacity by rainfall. That was 42% above average.
Industrial Impact: 10,000 — Factories were shuttered and 660,000 jobs were put at risk. Honda, Seagate, Western Digital, Toyota, Sony, and others have been affected.
Economic Impact: 2.6% — Revised GDP growth for 2011, down from an earlier forecast of 4.1%. Flood costs may reach 200 billion baht ($6.5 billion).
Before it's here, it's on the Bloomberg Terminal.
LEARN MORE