Bid & Ask: The Deals of the Week
Noteworthy expenditures of the week
By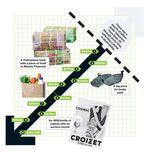 1. Germany's BASF agreed to sell the bulk of its nitrogen-fertilizer assets to Russian crop nutrient supplier EuroChem in a deal valued at $947 million.
2. Nisshinbo Holdings, a Japanese manufacturer of textiles, paper products, and tools, will acquire Luxembourg's TMD Friction Group, maker of brake materials, for $590 million.
3. JointStock Commercial Bank for Foreign Trade of Vietnam, known as Vietcombank, is selling a 15 percent stake to Japan's Mizuho Financial Group for about $570 million.
4. London-based Reed Elsevier, owner of the LexisNexis database, struck a deal to acquire U.S. online data provider Acuity Holdings from Investcorp for $530 million.
5. Arrow Energy, owned by Royal Dutch Shell and PetroChina, has sweetened its offer for Bow Energy to $524 million in hopes of gaining resources for a natural gas project in Australia.
6. A Blackstone Group real estate fund agreed to buy 36 shopping centers, most anchored by grocery stores, from Equity One for $473 million. Most are located in the southeastern U.S.
7. China's Yanzhou Coal Mining is acquiring two subsidiaries of Wesfarmers for $294 million to increase its coal reserves in Australia.
8. Centrica, the U.K.'s largest natural gas supplier, will pay $270 million for Texas electric company First Choice Power, which has 220,000 home and commercial accounts in the state.
9. American billionaires Wilbur Ross and Ronald Burkle are each investing about $50 million for 20 percent stakes in Amalgamated Bank, the nation's sole union-owned bank.
10. A 153-year-old bottle of Cuvée Léonie cognac from the house of Cognac Croizet fetched $156,740 at a Shanghai auction, setting a record for the French spirit.
Before it's here, it's on the Bloomberg Terminal.
LEARN MORE