Zombies vs. Vampires: Who's Bigger?
By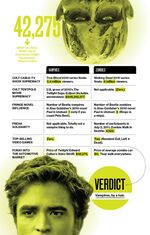 Zombies just will not die. After 2010 brought the movie Zombieland—which followed the 2009 book Pride and Prejudice and Zombies—people are still watching zombies roam Atlanta in AMC's The Walking Dead, which returns this fall, and enjoying seafaring zombies in Pirates of the Caribbean: On Stranger Tides. They're playing the Left 4 Dead video game series and staging en masse Zombie Walks in once-sane cities such as Pittsburgh and Toronto. In July, 4,522 people applied blood makeup and walked with their arms extended on the streets of Seattle—the host of ZomBCon—to set a world record for the largest pretend zombie march of all time.
In 2011 zombies are threatening to overtake vampires in the battle for cult paranormal undead hegemony. Zombies will star in three major Hollywood releases, led by ParaNorman, a comedy starring Anna Kendrick, and Resident Evil: Retribution, with Milla Jovovich as a zombie-slaying warrior. Kinda makes Edward Cullen seem like a sissy.
Before it's here, it's on the Bloomberg Terminal.
LEARN MORE