Jeans
Levi's 501: The all-time best-selling garment
Darrell Hartman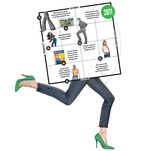 From farms to high-fashion boutiques, the sturdy denim trouser has proven itself indestructible in more ways than one. Denim is a $14.7 billion industry in the U.S., according to market research firm Euromonitor International, with the average person owning seven pairs. Yet as much as trends have shaped (and reshaped) the blue jean, what's more remarkable is how little it has strayed over the course of more than a century, all the way from Levi Strauss's original riveted denim work pant. "Men's jeans have not changed, in effect, ever," says Marcus Wainwright, co-designer for the superhip fashion label Rag & Bone.
Still, despite similarities with styles of bygone eras, both men's and women's jeans have evolved. Now, as an obsession with vintage-inspired authenticity takes hold, the new "It" jean looks, well, old, thanks largely to computer-generated fabric irregularities and elaborate finishing processes. "In the Eighties and Nineties, denim had no flaws. Now technology is being used to engineer character back in," says Rogan Gregory, designer of handcrafted label Rogan. J Brand's $200 mid-rise jeans, which help define the "It" jeans of today, have become a blockbuster—the company says it sold 100,000 pairs from March to May. To understand the connections between James Dean, the Jordache era, and today, study the trends (below), from loose fitting to skinny and from pristine to distressed.
Before it's here, it's on the Bloomberg Terminal.
LEARN MORE