Can Ford's "World Car" Bet Pay Off?
By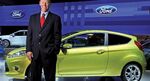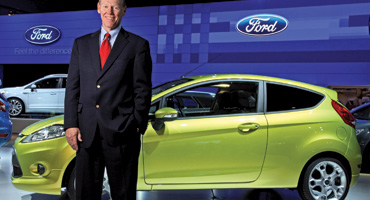 As CEO Alan Mulally sets about remaking Ford Motor (F), he has put at the center of his efforts the "world car." It's a simple concept: building one product for multiple markets rather than a bunch of different ones tailored to national or regional tastes. Like many auto executives, Mulally is convinced that the only way to make money on cars, especially the small ones Ford has struggled to sell, is by spreading development and other costs over one huge, global market. The first test of this high-stakes undertaking is the subcompact Ford Fiesta, already selling well in Europe and Asia and set to appear in the U.S. early next year.
The world car makes sense on paper, but it's risky. Ford has tried this before and failed, largely because its regional divisions couldn't agree on what kind of cars to build. But Mulally has reorganized the company around the world car and, after the Fiesta, plans global versions of several other models. "Ford is betting it has figured out what has bedeviled mass-market automakers for decades, which is hitting a home run in every market with the same car," says Jim Hall of 2953 Analytics, which helps automakers with design. "It's awfully difficult, but if Ford pulls it off, it stands to make huge profits."
DUMB-DOWN DANGER
When Mulally arrived at Ford in 2006, Derrick Kuzak, the North American product development chief, was pushing the global car concept. The potential savings were compelling: as much as $700 million in up-front costs per model, and the investment could be paid down more quickly than if Ford built a model for each market. Mulally, who learned a thing or two about building one product for the world while running Boeing (BA)'s commercial-plane division, put his imprimatur on the strategy and appointed Kuzak Ford's first global-product czar.
The danger of building one car for multiple tastes is that you wind up dumbing it down: Rather than being impressive, the vehicle is merely inoffensive. The trick is to aim higher aesthetically without alienating anyone. Kuzak took heart that European and U.S. tastes seem to be converging. For example, midsize sedans were once much smaller in Europe but now are comparable in size to their American siblings. Meanwhile, thanks to all the communities springing up on the Web, taste to a degree has become globalized. "If you look at consumer electronics and cell phones, it's all evening out globally," says Kuzak.
For inspiration, Ford turned to BMW's iconic 3 Series sports sedan. The car is not only virtually the same in each market but is also, to borrow a term from the garment trade, "fashion forward." The trick, says Verena Kloos, president of BMW's DesignworksUSA studio in California, is to "show consumers what the next big thing is, not reflect what they think now." Ford's global marketing chief James D. Farley explains the BMW appeal this way: "The ubiquity of the 3 Series engenders trust in every part of the world, and its design always has a strong point of view, which creates aspiration. It's a perfect combination."
ISABELLA EVERYPERSON
Ford researched buyers of its previous Fiesta in Europe as well as customers who prefer small cars sold by Volkswagen (VLKAY) in Europe, Honda Motor (HMC) in the U.S., and Toyota in China. These were mostly consumers aged 20 to 30 who had limited funds but a big appetite for fashion and design. Ford next created an imaginary customer—a global archetype, if you will. Her name is "Isabella," a recent college graduate living near Milan. Isabella is creative, thinking about pursuing journalism, a modest earner, and likes city living. She is fashionable and plugged into social media. "We found that Isabella's personality traits, aspirations, and sensibilities, and what she wants in a car, [resonated] in each market where we ran consumer clinics, whether it was Sydney or St. Louis," says Moray Callum, a Scot who has spent considerable time working in Japan and who now runs Ford's U.S. design studio.
The Fiesta is no bland commodity car. A hatchback normally telegraphs cheap, especially in the U.S. and China, but Ford contoured the rear of the car to resemble one of the small sport-utility vehicles that have won a following in recent years. The Fiesta's giant headlights seem to belong on a much pricier car. The dashboard instruments were modeled after a cell-phone keypad—a look billions are familiar with. To test acceptance, Ford put the Fiesta in Chinese, European, and U.S. showrooms, without pricing or fuel economy stickers. The company says the car attracted a surprising amount of attention from people ready to ditch Ford for Honda and from loyal customers who typically buy larger models.
It's hard to imagine a better company to benchmark than BMW. All the same, BMW took years to perfect its world-car strategy, time Ford doesn't have. Plus, BMW can afford to build cars that aren't just eye-catching but stuffed with new technology. That's harder to do in the mass market, where price competition is fierce. And just because the Fiesta is doing well in Asia and Europe doesn't mean it will be a hit in the U.S., where small cars are widely deemed a compromise. Much depends on what happens to gas prices and whether all those "Isabellas" think the Fiesta is cooler than the Japanese or European alternatives.
To find out what David Kiley thinks of Ford's Fiesta "world car", please read about his recent test drive at businessweek.com/go/09/fordfiesta
Before it's here, it's on the Bloomberg Terminal.
LEARN MORE