Toshiba's Turn to Reshuffle at the Top
Kenji Hall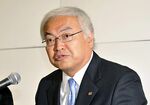 Three years ago, as head of Toshiba's (TSBAa.BE) power business, Norio Sasaki orchestrated the tech conglomerate's $5.4 billion acquisition of Westinghouse's nuclear-power-plant business. Now, as Sasaki prepares to take over the president's post, he will have to show the same willingness to take chances as he tries to help overhaul the company after its biggest-ever expected annual loss.
On Mar. 18, Toshiba's president, Atsutoshi Nishida, said that he would step down in June after a four-year run. Nishida will become chairman and pass the company's top executive post to Sasaki, a former nuclear researcher and his hand-picked successor. Nishida said he offered the job to Sasaki, a senior vice-president, two weeks ago. "For a moment, I was hesitant," the 59-year-old Sasaki told a packed conference room at Toshiba's Tokyo headquarters. "There's a huge amount of pressure involved in taking over during this very tough period."
You can't blame Sasaki. He inherits the task of turning around a $68 billion tech behemoth that makes everything from memory chips, mobile phones, and refrigerators to nuclear reactors, medical CT scan machines, and elevators. In January, Toshiba announced a plan to cut costs by 15%, lay off 4,500 temp workers in Japan, and move chip production to countries where labor costs are lower.
needed soon: more cash, less debt
Like many of Japan's tech manufacturers, Toshiba got blindsided by a strong yen and a sharp slowdown in demand for consumer electronics and tech parts worldwide. In January, the company lowered its annual earnings forecast to a net loss of 280 billion yen ($2.84 billion) for the fiscal year through Mar. 31 from its previous prediction of a profit of 70 billion yen. The loss would be its largest since Toshiba began releasing earnings six decades ago. (Recent news reports have suggested Toshiba could record an operating profit; the company has said the reports aren't "based on any announcement by Toshiba.")
Analysts have expressed worries about the company's balance sheet. That's been a recurring theme since Toshiba bought a controlling stake in Westinghouse from British Nuclear Fuels in late 2006. In a report earlier this month, Goldman Sachs (GS) noted that Toshiba won't likely have trouble finding short-term financing, but it will need to raise cash and lower its debt soon. Toshiba says it's counting on earnings improvements for help in fixing its balance sheet. "We think Toshiba urgently needs to strengthen its finances," wrote Goldman analyst Ikuo Matsuhashi.
Toshiba is the latest Japanese tech company to reshuffle its top management in an attempt to regain profitability. Earlier this week, Hitachi (HT.BE) replaced its top brass with a more seasoned group of executives to try to pull the company from a nearly $8 billion loss predicted for this fiscal year. Last month, Sony (SNE) CEO Howard Stringer picked a younger team of executives to lead an overhaul of the tech giant's core electronics business and catch up to more nimble software-savvy companies like Apple (APPL), Hewlett-Packard (HPQ), Microsoft (MSFT), and Nintendo (NTDOY.BE).
Nishida said he regretted that the global financial crisis had derailed his plans to stabilize Toshiba's profits. But he dismissed the notion that he was stepping aside because of the company's recent woes. "As president, I am responsible for the good and bad results of this company," Nishida told reporters. "But that responsibility had nothing to do with this change of management."
Sasaki's selection highlights the ascendancy of the company's power and infrastructure division, which he has led. The unit is the company's second-largest, behind electronics, and it's diverse: It has technology for nuclear and thermal reactors, mobile-phone base stations, electrical transformers, and CT scan equipment. In the first nine months of the fiscal year, the unit accounted for a third of overall revenues and was alone among business units in posting an operating profit. In the past decade, electronics and NAND flash memory chips have driven Toshiba's growth, but those units have lost their sparkle. The power and infrastructure unit's strong results will likely buy Sasaki's new team some time as they figure out how to revamp the electronics and semiconductor divisions.
Before it's here, it's on the Bloomberg Terminal.
LEARN MORE