The Drug Mergers' Harsh Side Effects
The recent wave of deals will solve drugmakers' short-term woes, but history shows R&D is likely to suffer
Catherine Arnst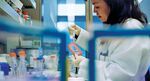 The future of a pharmaceutical company rides on its pipeline—the roster of drugs it hopes to get out of labs and into pharmacies before its previous round of medicines loses earning power. But the recent wave of pharma mergers doesn't bode well for that replacement process. The one part of a drugmaker's operation that never seems to do well in a megamerger is research and development.
It's true that Merck's (MRK) acquisition of Schering- Plough (SGP) for $41 billion, announced on Mar. 9, will improve the bottom line for the next two to three years, as will Pfizer (PFE)'s planned purchase of Wyeth, announced six weeks earlier, (WYE) for $64 billion. Both buyers said the deals will allow them to cut some 15% of staff—a total of more than 30,000 jobs—and streamline operating costs.
But a few years from now they may find themselves in the same wobbly boat they're in now, with no major drugs to replace the best-sellers that are on the verge of losing patent protection. "Making R&D bigger does not make it more efficient," warns Dr. Joseph Schlessinger, chairman of the pharmacology department at Yale University School of Medicine and the founder of three biotechnology companies. "It's very hard to manage science when you have huge teams."
For proof, look at the recent past. The drug industry has been transformed by megamergers over the past 15 years, but the bigger the companies get, the fewer new drugs they produce. U.S. pharmaceutical makers spent $65.2 billion in 2008 on R&D, compared with $36 billion in 2002, though for many reasons only eight totally new drugs reached the market last year, half as many as in 2001.
Pfizer has spent more than $60 billion on R&D since 2000 but has not produced one drug from its own labs in that time. In the pharma industry, "when you have 5,000 to 10,000 scientists working around the world, you can't know every project," says Kim Wagner, a senior partner at Boston Consulting Group. "You end up trying to standardize processes that really shouldn't be standardized."
DEFENSIVE, NOT STRATEGIC
Pharma mergers do solve near-term problems, so deals will keep coming. Next up: Roche Holding is pushing to buy the 44% of Genentech (DNA) it doesn't already own. Both Merck and Pfizer are gaining buffers against the loss of billions of dollars in revenues when their best-selling drugs go off patent in the next three years. Existing Wyeth and Schering-Plough drugs have several more years to go on their patents. That makes the mergers "defensive acquisitions, not strategic," says Matt Gurin, a senior consultant at Hay Group Consulting. "They're just filling the gaps in their existing product lines."
Merck CEO Richard Clark said when he announced the Schering deal that it will boost R&D, not harm it. He added that the number of drugs Merck has in late-stage development will double as a result, to 18.
But combining the companies could end up slowing development of those drugs considerably, warns Yale's Schlessinger. He speaks from experience: After selling one of his startups, Sugen, to Pharmacia in 1999, he watched Pfizer dismantle the Sugen lab when it bought Pharmacia in 2000. "Until the merger is completed, everyone in the labs of Wyeth and Pfizer and Merck and Schering will stop doing anything except talking about 'What is going to happen to me?'" he predicts.
Before it's here, it's on the Bloomberg Terminal.
LEARN MORE