TaylorMade's Innovation Test
TaylorMade's R9 driver is the result of CEO Mark King broadening his "relentless innovation" strategy to include middle managers
by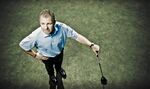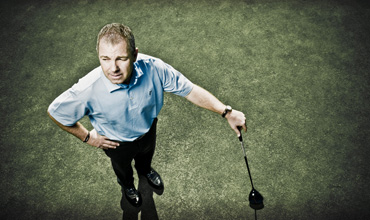 When TaylorMade Golf's R9 hits retailers in March, it will be the 45th new metal driver the company has produced since 2003. Thanks to that torrent of product introductions, the Adidas subsidiary has more than doubled its annual revenue, to $1.3 billion, catching up with once-larger rivals Callaway Golf (ELY) and Acushnet and rising to the top in sales of drivers, the game's priciest clubs.
Chief Executive Officer Mark King calls the company's lickety-split rollout schedule "relentless innovation." It's an idea he imported from Japan, where, during a 2000 business trip, he saw how Japanese golf-equipment manufacturers were trouncing leisurely paced American leaders by turning out new products much more often. Before yearend, he hired an executive from United Parcel Service UPS to revamp TaylorMade's supply chain so it could step up operations. Within five years, he doubled the money spent on marketing. All the effort paid off: Customers eager for that latest club paid prices that were as much as $100 more than what rivals charged.
Empowering Managers to Take Risks
Nowadays, Callaway and Acushnet, the latter a Fortune Brands (FO) unit that also sells Titleist products, are just as quick to market. Meanwhile, consumers have cut back dramatically on luxury goods. So King is banking on a more recent change he made to move ahead. Before he took over as CEO in 2003, after four years as president, product development had been the sole responsibility of the company's nine senior executives. King has spread that work to the 40 managers beneath them. And he vows to take his cues from them all. "I don't give a s--- who comes up with ideas as long as we've got one," King says.
The R9 club is the latest test of whether this added input adds value. When they first started talking about the new driver in early 2008, top executives of the Carlsbad (Calif.) company worried about loading it up with too many frills. They feared cash-strapped customers wouldn't pay enough to cover weights in the clubhead and a new, adjustable shaft that help change the trajectory of shots. But their subordinates argued for going ahead, saying the features could improve the club's mechanics. Middle management also worked out ways to cut costs. "The feeling of being empowered makes the managers take risks technically and in design, timing, and cost," says Benoit Vincent, chief technical officer and head of research and development. Rather than charging a premium, as it usually has done, TaylorMade is expected to sell the R9 at $399, vs. $449 for a new club from Nike (NKE) with fewer features.
King's "relentless innovation" may be more style than substance, some outsiders say. Callaway, for instance, has stepped up product introductions, thanks to a $30 million R&D budget. But the company, which is also based in Carlsbad, Calif., claims it brings out new equipment only when it can really improve on its old gear. "Callaway doesn't focus on technology for technology's sake," spokeswoman Michele Szynal says. "We throw away a lot of technology because it's not in the best interest of golfers."
Brainstorming with "Harold"
King isn't letting up. He wants creative tension. "The only way you are going to innovate," the 49-year-old CEO says, "is if you build chaos into the system." Still, he also knows he must manage his team. In the early days, the new structure was counterproductive, as outside hires such as supply-chain whiz Mark Leposky tussled with insiders. Things got so testy that King hired a psychologist who met with some of the top executives individually and as a group to help them find ways to get along. "If you want to work this fast, then you have to work together," says Sean Toulon, an executive vice-president who heads innovation.
Over time, the executives have learned to respect one another, but they still battle—to King's liking. In fact, he's hoping more employees will join in the free-for-all. Last year, Annie Lawrenson, an innovation strategy manager whose voice wouldn't have been heard in the old culture, proposed a corporate social-networking site to let all 1,400 employees brainstorm ideas. It's dubbed Harold for the title character of children's book Harold and the Purple Crayon. "What's important about Harold isn't the technology," King says. "It says you can have an imagination here." If King can guide employees' creativity in the right direction, TaylorMade might take the trophy in more than drivers.
Before it's here, it's on the Bloomberg Terminal.
LEARN MORE