Kia Is Ready to Score During Recession
Moon Ihlwan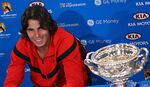 Rafael Nadal reduced Roger Federer to tears by seizing the Australian Open tennis championship on Feb. 1, but execs at the Seoul headquarters of Kia Motors couldn't have been happier. Nadal, the reigning French Open and Wimbledon champion, has had a sponsorship deal with the Korean automaker for 2-1/2 years, and his victory marked the culmination of Kia's aggressive promotion of itself during the two-week tournament in Melbourne. Spectators in the Rod Laver Arena or watching on TV couldn't escape the oblong Kia logo plastered all over the venue.
The Australian Open is one of several sports sponsorships for Korea's second-largest automaker. "Sponsorship of sporting events will be an important part of our marketing blitz this year," says Lee Soon Nam, director in charge of the South Korean company's overseas marketing. At a time when many sporting events face problems as troubled banks and corporate sponsors cut back, Kia is splurging by spending scores of millions of dollars in sports marketing this year. Among sporting events Kia is sponsoring are the National Basketball Assn., the World Cup soccer tournament, and the Asian Games.
Meanwhile, Kia's parent, Hyundai, has made sports bets of its own with some high-profile Super Bowl commercials. Two weeks before the Feb. 1 game between the Arizona Cardinals and the Pittsburgh Steelers, Hyundai bought three multimillion-dollar commercial spots on the Super Bowl's pregame show. The ads are on top of the two it had already purchased to run during the games to push its brand, particularly linking its $32,000 Genesis sedans that won the North American Car of the Year Award last month. That stands in stark contrast with rivals such as General Motors (GM), which canceled its Super Bowl advertising as part of a campaign to cut costs.
As the likes of GM struggle to survive, execs at Kia, which is 39% owned by Hyundai, are upbeat about their chances for 2009. "The current economic crisis is a once-in-a-century opportunity for us to expand our presence," Lee declares. "The focus this year will be gaining bigger market share." Kia, which has market shares of 2.1% in the U.S., 1.7% in Europe, and 2.5% in China, as well as 27.3% in Korea, is a star performer on the Seoul bourse, with the stock jumping 21% so far this year, vs. a 2% gain for the benchmark Kospi index.
The Currency Advantage
Why such an upbeat mood in the midst of the worst industry downturn in many decades? Like other major Korean exporters, Kia has a big weapon: the country's weak currency. The Korean won lost its value against the dollar by almost 26% in 2008 on a yearend basis, helping Kia swing to an annual operating profit of $224 million from a loss of $40 million in 2007. The company's 2008 revenues rose 2.7%, to $11.9 billion.
The weapon becomes formidable when considering the impact of the strong yen, which is pushing even the mighty Toyota (TM) into the red. In contrast to the won's deep fall, the yen jumped some 24% against the greenback last year. "Japanese automakers are the main competitors of Korean companies, and the shift in the direction of exchange rates made all the difference," reckons Suh Sung Moon, auto analyst at brokerage Korea Investment & Securities.
Sure, Kia is not insulated from the astounding contraction in the auto industry as it suffers from a huge capacity glut. The company is slashing production by 24% in the first quarter of this year at its home factories, where three-quarters of the 1.4 million vehicles it sold globally last year were made. U.S. sales dropped 10.5%, to 273,000 vehicles, in 2008, although the fall was less than the industry decline of 18% in the market.
The global credit crunch could also put pressure on Kia's financing capabilities. Kia, which added factories in Slovakia and China in just over two years, is pressing ahead with a plan to open a new U.S. plant, to be located in West Point, Ga., toward the end of this year. Such moves increased Kia's net debt (debt minus cash holdings) by some $1 billion, to $3.3 billion, in 2008. "Kia managers will certainly face a tougher environment this year, but we are talking about industrywide problems rather than Kia problems," says Ahn Soo Woong, head of research at LIG Investment & Securities.
Yet as the auto industry braces for an even worse year in 2009, Kia managers remain undeterred thanks to the currency disparity. Corporate analysts in Seoul figure the won will lose another 10% or so against the dollar this year. That inflates Kia'a revenues and earnings generated overseas (only 23% of its sales come from Korea) when translated into the local currency, thereby giving it that much more room for marketing spending. "This is a luxury most global automakers can't afford, particularly the Japanese," says Suh.
A New Look
Kia is also pinning its hopes for increased market share on a new lineup of vehicles. In overseas markets, it is introducing four new cars, including the Forte compact (new Spectra in the U.S.) and the Soul urban crossover vehicle that enabled Kia to boost domestic sales by 16% last year when Korean auto demand fell by 5.3%. Two other models Kia is launching at home and abroad are a compact sports coupe and a new SUV. Kia spokesman Michael Choo says the company has set a target of grabbing market share of 35% on the home turf this year, up from 27.3% in 2008 and 22.2% in 2007.
The ambitious target during a downturn owes much to Kia's new strategy emphasizing unique styling. The Soul and the Forte represent a European flair injected by chief designer Peter Schreyer, the German design star Kia hired in 2006 from Volkswagen (VOWG.DE). Having spent 2-1/2 years with Kia, Schreyer, who shaped the look of the iconic TT roadster and the classic 1997 Audi A6 sedan during his time at Audi from 1994 to 2002, is beginning to roll out a new lineup aimed at giving Kia a distinctive and recognizable face, according to executives.
So with the Korean currency giving breathing room, it's little wonder Kia is stepping up its marketing campaign. Although the company refuses to say how much it is spending to promote its brand, marketing director Lee says the company is increasing the expenditure by a single digit this year to hundreds of millions of dollars. Adds Lee: "With our competitors shrinking, it is a great time for us to move forward by attracting more and better dealers and seeking greater brand awareness."
Before it's here, it's on the Bloomberg Terminal.
LEARN MORE