Recession Puts More Pressure on Japan's Workers
Ian Rowley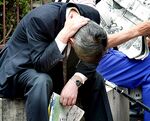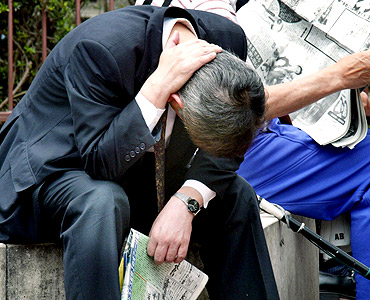 In the last year or so, life appeared to be getting better for Japan's long-suffering workers. Sure, salarymen still toil long into the evening and are expected to guzzle with their bosses after hours. But employers, at the behest of government, have been taking steps to ease workloads, and recent cases suggest Japan's judiciary is more willing to side with employees who sue companies—a trend that could lead to a better balance between job demands and a worker's private life.
A 44-year-old engineer at automotive supplier Denso is one recent beneficiary. On Oct. 30, 2008, a court in Nagoya awarded $15,000 to the man, whose full name hasn't been officially revealed, because excessive demands at work contributed to his depression. He had been working 14 to 15 hours a day at Toyota (TM), where he had been seconded to help develop diesel engine technology. After going back to Denso, he took six months off to recover from overwork but was demoted when he returned to his job. "It was important that the court recognized that the companies didn't give enough consideration to the working environment," says the man, who still works at the automotive supplier. Toyota and Denso both said that while they don't entirely agree with the verdict, they won't appeal the decision.
A year ago a Tokyo court ruled that the Japanese arm of McDonald's (MCD) had used illegal tactics to avoid paying for overtime. The court found McDonald's had created phony management positions to avoid paying overtime, which regular workers but not managers are entitled to receive. Since the ruling, McDonald's and other restaurant chains have said they will make changes. A spokesman for McDonald's in Tokyo declined to comment on whether the changes are yet in place, but says the company is taking a "proactive stance" on improving the work-life balance.
And in June 2008, Toyota began paying 40,000 factory workers for participating in quality control programs outside normal hours. Until then such work had theoretically been voluntary, but employees were typically expected to attend. That move followed a Nagoya court decision concerning a 30-year-old Toyota employee who died suddenly in 2002 after more than 100 hours a month of unpaid, after-hours quality control work.
Rising Insecurity
Yet, for all the signs of progress, anyone thinking life is getting easier for Japanese workers may need to think again. The economic downturn is weakening demand for Japanese exports, but it's unlikely to slacken many workloads. Thousands of temporary workers are being laid off and job insecurity is rising, which means few workers will want to appear as though they are not busy. In any case, after years of downsizing, there aren't as many people on the job, so a worker who declines to put in overtime knows his colleagues will have to pick up the slack. "Workers in their 30s have to do their own jobs and the work that in the past more junior workers would do," says Toshihiro Nagahama, an economist at
Dai-Ichi Life Research Institute
in Tokyo.
In fact, nearly 90% of workers say they don't even know what "work-life balance" means, a government survey has found. And 4 out of 5 say they would cancel a date if asked by a superior to work overtime, according to a poll by the Japan Productivity Center for Social-Economic Development, a Tokyo think tank. The Japanese Trade Union Confederation says two-thirds of men put in more than 20 hours of unpaid overtime monthly. One in 25 admitted to working 80 extra hours, a level that risks karoshi, or "working to death." "Balancing work and life is just a dream," says Kazunari Tamaki, who heads a group that monitors cases of death through overwork.
Haruka Nakashima knows that only too well. Her husband, Tomio, died four years ago at the age of 48 after suffering a stroke. He typically left their Yokohama home for his job with a restaurant chain called Skylark at 7 a.m. and often didn't return until 4 a.m. the next day. Before he died, he averaged 130 hours of unpaid overtime monthly, and the local labor standards office concluded his death was work-related.
Suing Because of Overwork
His widow agreed to compensation, but on the condition the company improve working conditions and inform her of changes each year. Nevertheless, last year the death of another Skylark worker—a contractor earning just $20,000 a year—was also attributed to overwork after he put in 80 hours a month of overtime. "In the cases of
karoshi
, it is obvious that the company killed the person," says Haruka Nakashima, who has set up a foundation to help overworked employees take on companies. Skylark declines to comment on the recent case or to provide details of its compensation agreement with Nakashima. Workers who claim more than a "standard level" of overtime for two months in a row must now see a corporate doctor, but a company spokesman declined to define what the "standard level" is.
Some companies are making a genuine effort to find a better balance between work and leisure for their employees. Toyota, for example, now generally limits overtime to 360 hours a year (an average of 30 hours monthly), and at some offices it makes public address announcements every hour after 7 p.m. pointing out the importance of rest and urging workers to go home. Nissan (NSANY) offers telecommuting for office workers to make it easier to care for children or elderly parents. And dozens of big corporations have introduced "no overtime" days when staff must leave promptly at 5:30 p.m.
Still, few workers feel they can take advantage of the initiatives. Even before the current economic slowdown, only a brave employee in Japan would demand to go home on time or use up all his vacation time. On "no overtime" days, many workers simply take their work home with them (it's called furoshiki, or "cloaked overtime") or stick around the office with the lights off. Two years ago, Mitsubishi UFJ Trust & Banking (MTU), a division of Japan's largest banking group, started to allow employees to go home up to three hours early to care for children or elderly relatives. So far, just 34 of the company's 7,000 employees have signed up for the plan. "We want bosses to say, 'Why don't you take some days off?'" says Yoshiro Hano, head of the labor and life planning division at the Health Ministry.
Some workers are finding their own path to a more balanced life. Many young people choose to earn less and forgo the chance of promotions by taking short-term contracts via an employment agency rather than face the grind of a large company. These workers today make up about a third of Japan's labor force, and 42% of them say they prefer such jobs because they offer a better quality of life, a government survey shows. "I want to have holidays and evenings to myself," says Ayako Machida, 32, who works at a Tokyo travel company via an employment agency. Even though that means a lower salary and few pension benefits, after factoring in the unpaid overtime worked by her friends with permanent jobs, she says, "my hourly pay is about the same."
Before it's here, it's on the Bloomberg Terminal.
LEARN MORE