The Rise of the Four-Day Work Week?
U.S. employers such as Pella and the City of Atlanta are cutting hours instead of jobs to slash costs while remaining ready for a turnaround
By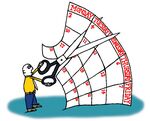 Like many companies, Pella is looking to cut expenses because of the economic downturn. But instead of laying off more workers, the Iowa manufacturer of windows and doors is instituting a four-day workweek for about a third of its 3,900 employees. Chris Simpson, a senior vice-president at the company, acknowledges it's an unconventional move. But Pella believes the economy could turn around faster than most people expect, and it doesn't want to be caught short of experienced workers. "Our contention is, consumer confidence will rebound," says Simpson. "If there's a [government] stimulus package of some kind, we think people are going to respond."
A few employers are following Pella's lead in shortening the workweek. They include steel companies such as AK Steel (AKS), the city of Atlanta, small newspapers, and hospitals. According to the U.S. Bureau of Labor Statistics, the number of employees who normally work full-time but now clock fewer than 35 hours a week because of poor business conditions has climbed 72%, to 2.57 million in November 2008, from 1.49 million in November 2007. "More companies are exploring alternatives to layoffs," says John A. Challenger, chief executive officer of the consulting firm Challenger, Gray & Christmas. "If they can keep people on until the business turns around, the company would be in much better shape to ramp up quickly."
In Atlanta, Mayor Shirley Franklin is cutting the hours and pay of 4,600 employees by 10% because the city is facing a $50 million budget shortfall. Franklin says that if she were to lay off more workers instead of slashing hours, "you'd have to eliminate major functions of the government. It's not just jobs we've saved, it's services."
Many American tech companies are shutting down for a few extra days over the holidays. For the first time, PC maker Dell (DELL) is allowing employees to take up to five days without pay during the quarter ending in January. Some analysts believe such shutdowns in Silicon Valley will evolve into four-day workweeks. "Our contacts are saying [short weeks] will start in January," says Trip Chowdhry, an analyst with Global Equities Research.
Most employees prefer a reduction in hours to being laid off. But workers say there are costs either way. Pella employee Connie Davis says she plans to cut back on certain groceries when the four-day workweek takes effect in January. "Like anyone who's counting the pennies, I will tighten my belt a little bit," she says.
With Peter Coy
Join a debate about whether paid sick days should be mandatory.
Before it's here, it's on the Bloomberg Terminal.
LEARN MORE