Automoblox's High-End Toy Cars
By designing a car with classic features, Patrick Calello figured he'd win over parents while snagging grown-up buyers looking for a toy for themselves
Louise Lee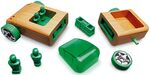 At first glance, toyland seems far too congested for yet another car.
Unless, perhaps, it's a sleekly designed vehicle made by Wharton (N.J.)-based Automoblox. Its creations are free of chunky plastic, flashing lights, or tinny sounds bursting from miniature speakers. Instead, founder Patrick Calello's minimalist-looking models sport clean lines and thoughtful details. Made of light-colored wood, plastic, and rubber, the 14 different Automoblox models come with interchangeable parts, allowing kids to dream up cars of their own invention.
By designing a high-end toy car with classic features, Calello figured he'd win over parents while snagging grown-up buyers out to treat themselves. "It's museum style, with a lot of simplicity and restraint with respect to materials and color," says Calello, also Automoblox' chief designer. "It appeals to the intellect of the adult." At about $40 each, the cars need to.
Calello's anti-Hot Wheels strategy is tearing up the road. The 11-employee Automoblox expects to post $6 million in revenue this year, more than double 2007's figures and up from $1 million in 2006. Such growth comes amid a shrinking market for toys and a growing interest in electronics and video games. According to Port Washington (N.Y.) researcher NPD Group, total North American toy sales fell 2.4% in 2007, to $22.3 billion. Sales of toy vehicles fell 19.2% in the first seven months of 2008.
Calello, an auto enthusiast who hand-washes his modified Acura NSX sports car, was working as a packaging designer for Colgate-Palmolive when he decided to craft his own set of toy wheels. As a parent, Calello says, he was turned off by the "garish" options in stores, preferring something more akin to German wooden toys. He spent four years working nights and tweaking the design before quitting his day job to launch Automoblox. The cars are made mostly of blond beechwood, with plastic used in roofs and interiors. For the tires, Calello uses a sticky rubber that grips the ground. The cars are manufactured in China.
SHELF ESTEEM
Creating a product that simultaneously appeals to kids and adults is not without its challenges. Early on, Calello focused too much on aesthetics, packaging the cars in clear plastic boxes inspired by futuristic-looking displays at the Mercedes-Benz Smart Car showroom in Paris. But he didn't consider the lighting used by independent toy stores, and the clear boxes looked dingy on shelves. He switched to cardboard boxes.
But how do the cars measure up as toys? Independent New York toy reviewer Stephanie Oppenheim, for one, lauds them for their durability and simplicity. "So many toy vehicles come apart and then end up in a heap," she says. "You can put these back together without a degree in engineering." Adam Coe, an eight-year-old fan in Franklin Township, N.J., says the cars are "really cool" and good for racing in his basement.
Other buyers are clearly planning to decorate bookshelves or office desks with their purchase. Says Jeanette Lauture, owner of Aunt Jean's Toys & Treats, an independent toy shop in Montclair, N.J.: "Sometimes when we ask if they want it gift-wrapped, they say, 'No thanks; it's for me.' "
Back to BWSmallBiz December 2008/January 2009 Table of Contents
Before it's here, it's on the Bloomberg Terminal.
LEARN MORE