Venture Capital's Liquidators
As startups go bust, it's boom times for firms that restructure and sell off tech companies' remainseverything from furniture to patents
Robert D. Hof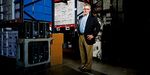 Silicon Valley is famous for its awesome startup machine, but the place is just as brutally efficient at winding down those companies when things turn south. So as the imploding economy finally hits the tech sector, the vultures of the Valley are flocking, hoping to profit from corporate misfortune as they did during the dot-com bust. "We unwind dreams," says Martin D. Pichinson, co-managing director of Sherwood Partners, a firm that restructures and often sells the remains of failing tech companies. "It's our turn."
Pichinson, known among his venture capital clients as Marty the Liquidator, is part of a network of corporate dismantlers that includes online auction firms, intellectual-property brokers, used-equipment liquidation outfits, and bankruptcy attorneys. They're starting to work overtime as troubled companies—from high-profile Internet phone service SunRocket to countless obscure Web, semiconductor, and networking startups—flame out in greater numbers. And with venture capitalists starting to cull more and more of their less promising startups in the past month or so, the corporate cleanup crew anticipates even more business in the coming year, if not years. "We're going to make a lot of money," says Ross M. Dove, president of worldwide business development for GoIndustry DoveBid, which auctions off everything from chairs to computers for a cut.
In fact, some liquidation firms around the country are already raking it in because struggling or failing financial services firms, manufacturers, and retailers are dumping loads of excess gear. "The flow of equipment into our industry is like we've never seen before"—with incoming offers to unload gear up 300% from a year ago—says Barry Shevlin, chief executive of telecom and network equipment reseller Network Liquidators. The company, which began in Florida in 2001 to capitalize on the wreckage of the dot-com crash, raised $6 million in October to expand. Shevlin expects to gross $50 million this year, up more than 20% from 2007.
PEDDLING PATENTS
The Valley looks as if it will provide the next wave of opportunity. And this time, it's not just computers and Aeron chairs up for grabs. Patents and other intellectual property are often today's most lucrative assets. Intellectual Ventures, a patent investment company started by former Microsoft Chief Technology Officer Nathan Myhrvold, is becoming a prime place for VCs to sell off dead companies' intellectual property, though the highly secretive company keeps a tight lid on where it's picking up those patents. "Selling a patent produces cash very quickly," says Vincent Pluvinage, the firm's general manager for strategic alliance and private equity partnerships.
Entrepreneurs and their venture capital backers often hate to admit they're on intimate terms with the corporate dismantlers. But failure is part of the Valley ecosystem, and companies know they need help dealing with creditors and lawyers and clearing away the detritus. Outsourcing the work not only generates faster cash but frees up both venture capitalists and talent—entrepreneurs, engineers, and key executives—to move on to more promising opportunities.
The person on most tech VCs' speed dials is Pichinson. He knows all about faded glory from his days in the 1970s managing The Miracles after Smokey Robinson left the group. Clients liken the voluble former New Yorker to the colorful and deadly efficient Harvey Keitel character in the movie Pulp Fiction: a fixer who quickly and quietly helped clean up hit men's bloody accidents. Or as Pichinson, whose BlackBerry (RIMM) jangles constantly, puts it in a unique blend of Big Apple bluntness and Silicon Valley jargon: "Really, we're a sophisticated mortuary that monetizes assets."
Lately, that's a lot of assets. On a recent afternoon, Pichinson shows off a gallery of broken dreams that he and his 25-person staff call the Graveyard. It's an area behind his unassuming office building, across the street from Microsoft's (MSFT) Valley outpost and near a mobile home park where old men walk their dogs. Inside a 5,000-square-foot warehouse and two trailers are floor-to-ceiling stacks of computers, phones, patent filings, and employee records and tax returns that Sherwood keeps for legal requirements. The names on the storage boxes add up to a litany of once-promising startups whose demise or sale in some cases stretches back years: Caspian Networks, SunRocket, NeoScale, HeyAnita.
Back in his office, which features a glass case containing Barry Bonds' 500th home run bat, Pichinson explains why he's the go-to guy for tech firm shutdowns. For one thing, Sherwood has adapted a process called "assignment for the benefit of creditors" to venture-backed companies. With ABCs, a company's assets are signed over to a party such as Sherwood, which then handles asset sales, tax returns, and other minutiae, returning money to creditors. In contrast to bankruptcy, this out-of-court process is faster and cheaper, relieving boards and executives of their work duties in weeks instead of months.
VULTURE IN "A WHITE HAT"
Sherwood charges upward of $50,000 plus a success fee of 4% to 10% of the assets it sells. It also charges for other services such as providing an interim CEO. Pichinson understands the emotional impact of a company's demise, too: He used to bring in an FBI consultant specializing in hostage negotiation to work with shell-shocked or resistant executives. "Even though he's Dr. Death, he's considered to wear a white hat," says George Hoyem, managing partner at the venture capital firm Blueprint Ventures, who has worked with Pichinson on startup restructurings. "He's a very calm guy in the storm."
In the current economic tempest, Pichinson is working 13-hour days that often start at 6:30 a.m. That's a big switch from the period between 2002 and 2008, when he coasted along with two or three deals a month. Since last spring, when tech began feeling the economy's chills, he has been getting about three new deals a week. And as things get worse, he's likely to get even busier. Says Hoyem, none too happily: "There's going to be massive business for Marty."
Not all of that work is shutting down companies. About a third of Pichinson's business is in helping companies cut costs or renegotiate debt ahead of a new financing. His eyes light up as he mentions a VC who had called him the day before to shut a company down. "I think we're going to save it," he whispers conspiratorially. Even if he doesn't, he and his partners will make out just fine.
Before it's here, it's on the Bloomberg Terminal.
LEARN MORE