A Chinese Web Giant's Sizzling Success
Tencent's huge lead in instant-messaging makes it one of the most vibrant young companies in Asia
By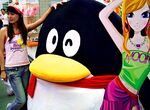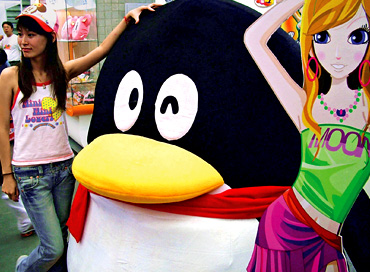 Like most Chinese Internet companies, instant-messaging champion Tencent has never known anything but fat times. It was a mere infant during the dot-com collapse in 2000, so it avoided most of the pain. And since Tencent went public in 2004, it has built on its lead in instant messaging—both on computers and mobile phones—plus or minusto become the most popular online destination for young Chinese, offering games, e-mail, and social networking. In June, Tencent—No. 10 on BusinessWeek's annual Hot Growth Asia list—became the first dot-com in Hong Kong's blue-chip Hang Seng Index. For young Chinese, Tencent's QQ instant messaging is as prevalent as Google and Facebook in the U.S. "Out of any 10 friends, 9 probably use QQ," says Lily Li, a 24-year-old accountant in the northern city of Tianjin who has used QQ for six years.
With the global credit crisis leading to a slowdown in China, Tencent will have to prove it can thrive in bad times as well. Online ads are likely to take a hit, and the company's core customers, in their teens or twenties, are vulnerable as factories lay off. Its success, meanwhile, has attracted powerful rivals eager to sell to China's growing online population.
So far, Tencent hasn't stumbled. Its third-quarter profit jumped 73%, to $108 million, on a 91% increase in sales, to $297 million. While its shares are down 30% this year, that beats the 54% drop in the Hang Seng. Tencent warded off Microsoft's (MSFT) MSN and now serves 79% of China's IM market. "As the most diversified Net name in China," Deutsche Bank (DB) analyst Victor Tseng writes in a Nov. 13 report, Tencent will "better weather the economic winter."
Longer-term, Tencent's big challenge will come from 3G cellular networks. Superfast wireless service will soon be available in many cities, giving millions more Chinese access to the mobile Net. That could lead to a clash with China Mobile, the country's top carrier, which in 2006 launched an IM service branded FeiXin, or "Flying Mail." It now boasts 26.5 million users, estimates researcher Analysys International.
For now, Tencent is better positioned than most rivals. While China Mobile is now No. 2 in IM, ahead of Microsoft, Tencent has more than 10 times as many users as the cell-phone carrier. And even if online advertising takes a tumble, only 12% of Tencent's sales come from ads, while 69% comes from selling virtual clothes, jewelry, and other doodads to online gamers and social networkers. Since most of those items cost less than a dollar, such sales are less susceptible to an economic slowdown, says Morgan Stanley (MS) analyst Richard Ji. "Even in a bear market," Ji says, "people still date and play online games."