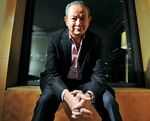 Talk about a double whammy. The global financial crisis is hammering Mideast markets at the same time oil prices are plummeting. In once-booming Dubai, where I spent much of the past week, the bubble is bursting and the city-state's dream of being a regional financial center seems considerably further removed from reality. Before my trip I talked with Naguib Sawiris, chairman and CEO of Orascom Telecom, which controls mobile networks in the Middle East, Africa, and South Asia. It operates separately but is part of the Orascom conglomerate, the largest private-sector employer in Egypt. Sawiris is more than just another Mideast billionaire. He is a keen and outspoken observer of the international business scene, with strong opinions about Barack Obama's election, the financial crisis, al Qaeda, and Iraq after the U.S. leaves.
MARIA BARTIROMO
What sort of reaction are you seeing in the business community in Egypt and across the Middle East to the election of Barack Obama?
NAGUIB SAWIRIS
I think everybody is breathing the air, you know, everybody is very happy. People perceive him as more of a peaceful person than the old Administration. So I think there's a lot of optimism. I'm just worried that this optimism is a little bit overblown.
You mean he could be set up to fail because expectations are so high?Yes. That's what I'm worried about. You know, George Bush's principles were not all wrong...but he did not reach out enough to the outside world. I hope that Mr. Obama will reach out more and at least listen to people.
Do you think that there is a distrust of America in your part of the world among business leaders?No. No. Not among business leaders, but among the demagogues and the masses—street people who are not that educated. Most businessmen trust America and look up to her.
What impact has the financial crisis had?It's different from country to country. In Dubai, they have the crisis and also a real estate bubble. But I think Dubai will be bailed out by Abu Dhabi. Saudi Arabia is suffering.
Is America to blame for the upset in Mideast markets, or is it because of problems there?It's because of the U.S. It's also because the governments there have not intervened because they are not as sophisticated and do not have the tools to intervene. So private-sector companies are under pressure. Public-sector companies owned by the government don't care because they're used to losses, and people are paid even if they don't work.
What should Obama do first to improve relations with the Arab world?Get on a plane and visit the most important countries and explain what his policy is going to be. Meet every important leader and tell them, "Look, we want a fresh start."
Is there an opportunity for the new President to help secure a lasting peace between Israel and its neighbors?I don't think so. We have the Syrians quieting down a little bit, but we still have the Iranians supporting Hamas and trying to overthrow any kind of settlement.
Are radical movements such as al Qaeda gaining strength or in decline?They are in decline for sure. We have seen fewer terrorist acts in most of the world. They're losing ground.
Will Obama be tested, as [Vice-President-elect] Joe Biden suggested?Yes.
How would the Mideast react to Hillary Clinton as U.S. Secretary of State?I think people will be happy because they will assume Bill Clinton is still involved.
What about Iraq? About a year ago, Orascom sold its mobile phone network in Iraq, set up after the fall of Saddam. Was it too difficult to conduct business in Iraq?It was very difficult because of the lack of security and the continuous kidnapping and events. You couldn't get people to live there with their lives always at stake. And we didn't have a green zone to put our people into. So for me, it was humanly not acceptable that I sit in Cairo . . . with people dying or being kidnapped. Once the U.S. leaves, I'm doubtful about the future of Iraq.
Where are you investing today? Where do you see growth around the world?If you want a good example from the emerging markets, there is North Korea—if we are right in our assumption that it is moving towards a free economy and is really going to be a peaceful nation. And I think they've demonstrated that by dismantling the nuclear facilities. This was a big step for them. It includes some humiliation, which is not something the Eastern people like.
You have strong opinions about saving Detroit.It is a national crisis. People's lives are involved. So you are not just safeguarding an old legacy like General Motors, you are safeguarding the whole financial system and the jobs. If you have a problem with a management that is screwed up, you fire the management, but you don't let great companies disappear. It would be utterly wrong. And I believe we should have salvaged Lehman Brothers. This was not just about Lehman, it was about the symbolism of one of the largest financial institutions going bust in 24 hours. I mean, it was wrong to let Lehman go.
Before it's here, it's on the Bloomberg Terminal.
LEARN MORE