Can Nintendo Play Hard Through a Recession?
The game maker expects strong holiday sales, as more consumers opt for home entertainment
Kenji Hall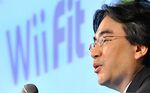 Video games are recession-proof. That has been the conventional wisdom among gaming industry executives for years. But faced with the worst financial crisis in decades and the prospect of a global slowdown, will consumers see games as a frivolous expense?